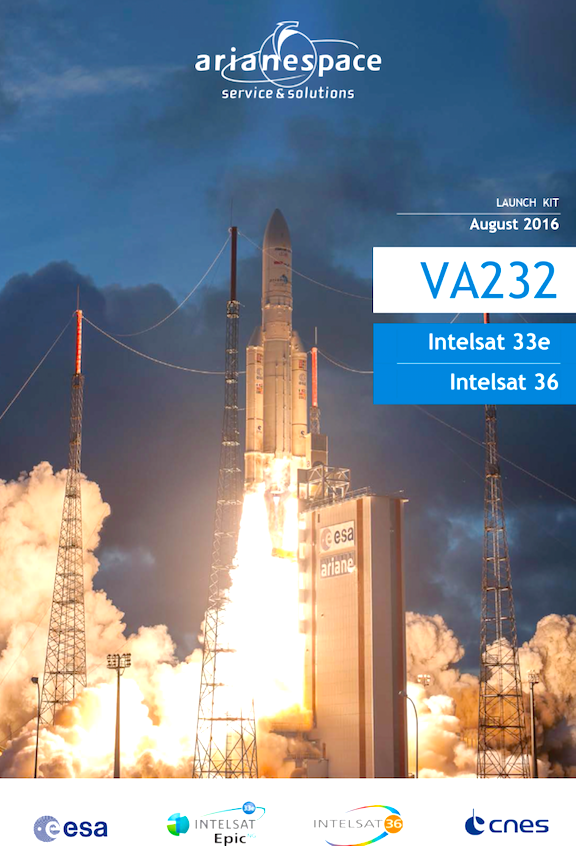 Ready, set, go... almost. The Ariane 5 has been integrated for the upcoming VA232 launch of the Intelsat 33e and Intelsat 36 satellites on Wednesday, August 24th from French Guiana.
Designated Flight VA232, the mission will be Arianespace's sixth launch in 2016, and the fourth using a heavy-lift Ariane 5 this year. Its two payloads will be the 57th and 58th satellites launched by Arianespace for Intelsat which continues a relationship that began in 1983 as the US-based operator developed a network to deliver high-quality, cost-effective video and broadband services worldwide.
During preparation activity for Flight VA232 in the Spaceport's Final Assembly Building, Intelsat 36 was installed atop the Ariane 5's core stages on Friday, positioning the 3,250-kg.-class spacecraft as the mission's lower passenger.

Followed this weekend by the lowering of the launcher's "composite" consisting of Intelsat 33e, together with Ariane 5's SYLDA dual-payload deployment system and the protective payload fairing into position over Intelsat 36.

Deployed first during the mission to geostationary transfer orbit, Intelsat 33e, which has an estimated liftoff mass of 6,600 kg. is the second satellite in Intelsat's next-generation high-throughput Intelsat Epic NG series. It joins Intelsat 29e, launched by Arianespace aboard another Ariane 5 in January.

Built by Boeing using a 702MP spacecraft platform and operating from an orbital slot of 60 deg. East, Intelsat 33e's Ku- and C-band coverage will meet broadband demand for carrier-grade telecom services, enterprise networks, aeronautical connectivity and certain media services.

The satellite's Ku-band spot beams are to provide broadband services for Europe, Africa, the Middle East and Asia, while a Ku-band wide beam provides broadcast coverage of Europe, the Middle East and Asia. Its C-band spot beams will cover high traffic telecommunications centers in Europe, Central Africa, the Middle East, Asia and Australia; while a C-band wide beam is to deliver coverage over sub-Saharan Africa for data and media services.
Completing Arianespace's Flight VA232 at 41 minutes after liftoff will be the separation of Intelsat 36, which is designed to enhance Intelsat's media neighborhoods serving the South African and Indian Ocean region.

Manufactured by SSL (Space Systems/Loral) on a 1300 platform, its Ku-band payload was built to support the MultiChoice direct-to-home service in South Africa.

Intelsat 36's C-band relay capacity provides in-orbit resilience for the company's video content distribution neighborhood at the orbital slot of 68.5 degrees East – where the satellite will be co-located with Intelsat 20, which was launched by Arianespace in August 2012.

Follow Arianespace