Satnews Magazines
SatMagazine
and
MilsatMagazine
are provided FREE by Satnews Publishers and are available to read online or download. Respectively focused on commercial and military areas, the magazines provide monthly features, trends, market analysis and recent developments in international satellite communications. You can access the most recent issues below.
We also offer periodic print and PDF guides focusing on specific SATCOM issues. They are also available below.
Maritime SATCOM Guide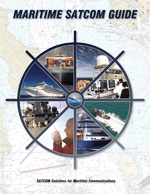 2016 Edition
This publication serves as a guide to fleet operators, sea captains, and maritime satellite equipment and service providers worldwide. It spotlights insights from a number of providers who wish to inform interested consumers as to their roles in this ever-increasing and crucial market. Also offered are their valid opinions, based upon their experiences within maritime SATCOM for your own maritime business operations.
SatMagazine
March 2018 Edition
SatMagazine Features Include:
MilsatMagazine
March 2018 Edition
MilsatMagazine Features Include: