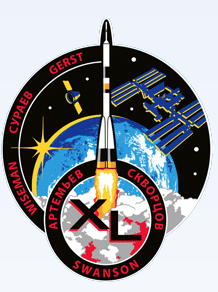 [SatNews] They'll be joining the rest of their team already ensconced in the ISS, and begin numerous experiments.

The three-member Expedition 40 crew is wrapping up its work week with more life science and an investigation into particle impacts on the International Space Station's external surface. Commander Steve Swanson and Flight Engineers Alexander Skvortsov and Oleg Artemyev are also gearing up to receive a new trio of flight engineers May 28.
Swanson participated in the Skin-B investigation Friday which observes the skin's adaptation and regeneration in space and compares it to other human organs adapting to weightlessness. The European Space Agency (ESA) is the lead investigator for the experiment that is studying the accelerated aging observed in a crew member's skin while living in space.
The commander also took part in the long-running Sprint VO2 exercise experiment. That study investigates high-intensity, low duration exercise techniques using a resistance device, an exercise bike and a treadmill. Instead of exercising six days a week, crew members are exploring a three day a week, more intense regimen. Scientists have seen cardiovascular benefits from the aerobic training while also trying to minimize muscle and bone loss.
Swanson checked water and light levels for a new experiment taking place onboard the orbital laboratory that explores harvesting salad-type plants for consumption by future crews. The Veggie crop harvesting study seeks to provide the crew with a palatable, nutritious, and safe source of fresh food and a tool to support relaxation and recreation. However, to determine its suitability for future crews the harvested crop will be stored in a freezer for later analysis by scientists on the ground.
He also checked samples for another botany experiment that investigates plant systems responsible for gravity resistance under microgravity conditions in space. The Resist Tubule experiment may provide more efficient plant production capabilities on Earth and in space.
The two cosmonauts, Flight Engineers Alexander Skvortsov and Oleg Artemyev, are working their segment of the space station conducting Russian science and maintenance activities. Skvortsov is on his second mission to the orbital lab, his first was as an Expedition 23/24 crew member in 2010, while Artemyev is on his first.
The duo is exploring tools and techniques to detect particle impacts and other hazards on the outside of the station. The Otklik study may provide scientists ways to detect the location of external impacts and risks to station systems.
On Wednesday next week a new trio of Expedition 40/41 crew members will lift off to join the three orbiting residents of the International Space Station. Soyuz Commander and cosmonaut Maxim Suraev, NASA astronaut Reid Wiseman and European astronaut Alexander Gerst will launch aboard the Soyuz TMA-13M spacecraft at 3:57 p.m. EDT (1:57 a.m. May 29 Baikonur time) from the Baikonur Cosmodrome.
Learn more about the expedition here.