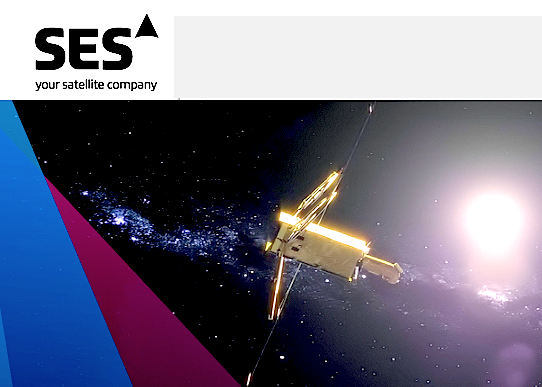 [SatNews] SES (NYSE Euronext Paris and Luxembourg Stock Exchange: SESG) announced an agreement with SpaceX to launch two new satellites in 2017—SES-14 and SES-16/ GovSat—using the Falcon 9 rocket.
SES had announced the order of the two new satellites last week. SES-14 is a hybrid satellite to be positioned at 47.5/48 degrees West with C- and Ku-band wide beam coverage, as well as Ku- and Ka-band High Throughput Satellite (HTS) coverage, across the Americas and the North Atlantic region. The satellite will fully rely on electric propulsion and will be equipped with an electric plasma propulsion system for orbit raising and in-orbit maneuvers. SES-14 will bring additional capacity to serve growing Direct-to-Home and Direct-to-Cable video neighborhoods in the Americas and support existing VSAT services in both bands. The multi-spot Ku- and Ka-band beams will deliver additional, high throughput capacity and are ideal for traffic-intensive data applications such as mobile backhaul, maritime and aeronautical services.

SES-16/GovSat has been ordered by LuxGovSat, a new company jointly incorporated by SES and the Luxembourg government, and will be positioned at 21.5 degrees East. It is a multi-mission satellite using dedicated military frequencies (X-band and military Ka-band) to provide high-powered and fully steerable spot beams for multiple government-specific missions. The satellite will cover Europe, the Middle East and Africa. The Luxembourg government has pre-committed to a significant amount of capacity on the new satellite in support of its NATO obligations; the remaining capacity will be commercialized with governmental and institutional customers.

The next SES satellite to be launched is SES-9, due later this year on Falcon 9. The spacecraft will be positioned at the orbital slot of 108.2 degrees East, will provide incremental as well as replacement capacity and will be co-located with the existing SES-7 and NSS-11 satellites. The satellite will expand SES's capabilities in the provision of DTH broadcasting and other communications services in Northeast Asia, South Asia and Indonesia, as well as maritime communications for vessels in the Indian Ocean.

"SpaceX is an important launch partner to realize our new fleet investment and growth program," said Martin Halliwell, Chief Technology Officer (CTO) of SES. "With SpaceX, we share the mission of innovating the space segment and technology, achieving step changes in the design and economics of launchers, and leveraging them to the advantage of our satellites, their profile, flexibility and performance, and, above all, our customers. We are looking forward to working with the SpaceX team on these two new missions."