The Dragon that can fill a wagon with supplies and experiments was sent skyward today.
On Monday, April 2 at 4:30 p.m. EDT, SpaceX had a successful liftoff of its fourteenth Commercial Resupply Services mission (CRS-14) to the International Space Station from Space Launch Complex 40 (SLC-40) at Cape Canaveral Air Force Station, Florida. Dragon separated from Falcon 9's second stage about 10 minutes after liftoff and will attach to the space station on Wednesday, April 4.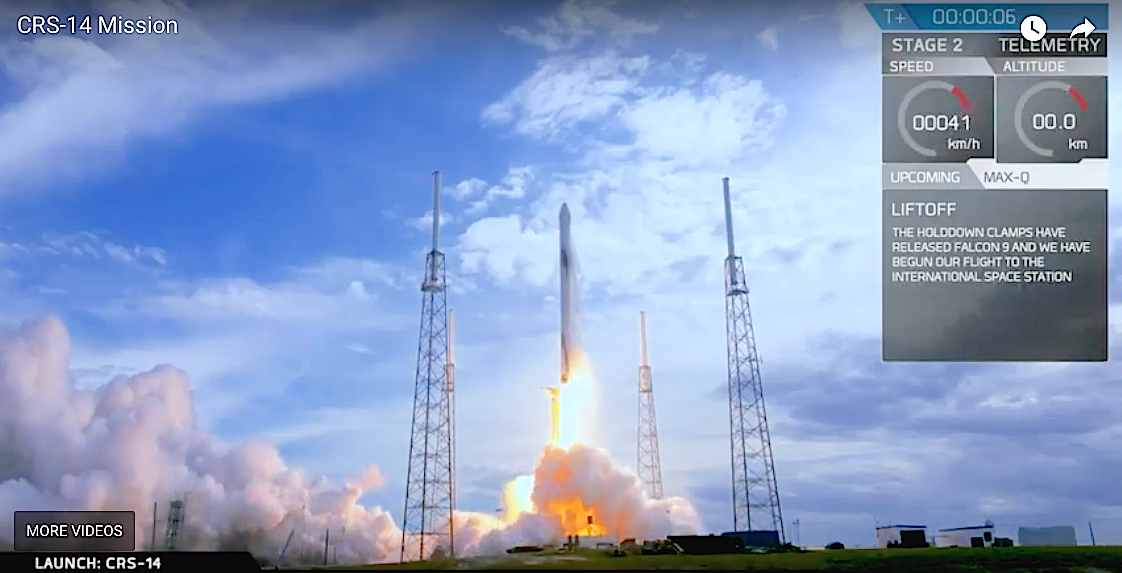 Both Falcon 9 and the Dragon spacecraft for the CRS-14 mission are flight-proven. Falcon 9's first stage previously supported the CRS-12 mission in August 2017 and Dragon previously supported the CRS-8 mission in April 2016. SpaceX did not attempt to recover Falcon 9's first stage after launch.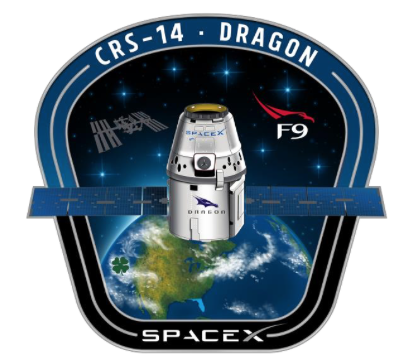 Dragon will be filled with about 5,800 pounds of supplies, payloads and vehicle hardware, including critical materials to directly support science and research investigations that will occur onboard the orbiting laboratory.
SpaceX CRS-14 is the fourteenth of up to 20 missions to the International Space Station that SpaceX will fly for NASA under the first CRS contract. In January 2016, NASA announced that SpaceX's Falcon 9 launch vehicle and Dragon spacecraft were selected to resupply the space station through 2024 as part of a second Commercial Resupply Services contract award. Under the CRS contracts, SpaceX has restored an American capability to deliver and return significant amounts of cargo, including live plants and animals, to and from the orbiting laboratory. A variant of the Dragon spacecraft, called Crew Dragon, is being developed for U.S.- based crew transport to and from the space station.
ISS Capture
On Wednesday, April 4 International Space Station crew members will use the station's 57.7-foot (17.6- meter) robotic arm to reach out and capture the Dragon spacecraft and attach it to the orbiting laboratory.

On board this flight are a number of payloads sponsored by the ISS National Laboratory (managed by the Center for the Advancement of Science in Space) focusing on life sciences, biotech, and new facilities to engage further utilization of the ISS National Laboratory.
The payloads represent a diverse combination of science, technology, and the validation of new facilities that will contribute to greater research capacity in the future. The life science implications of these experiments have the potential to be groundbreaking within the medical community, benefiting human life on Earth.
A few highlights of this mission include: Small Satellite Technologies/Cube Satellite Remove Debris
A project/partnership, NanoRacks, is in partnership with Surrey Space Centre and University of Surrey. The amount of space debris orbiting the Earth is a growing problem. Collisions of orbiting space debris can create even more debris, which could damage the satellites and other spacecraft. This project will use the NanoRacks RemoveDEBRIS satellite platform to deploy two CubeSats as artificial debris targets to demonstrate four technologies for debris removal (net capture, harpoon capture, vision-based navigation).
Could a net and a harpoon be the answer to the space junk problem?

The RemoveDEBRIS mission, which has been designed and manufactured by a consortium of leading space companies led by the University of Surrey and funded by the European Commission, is one of the world's first concrete steps to clean up the estimated 40,000 pieces of space junk currently orbiting Earth.

Once in orbit the ADR experiments on board the spacecraft will be performed. In the first of two capture experiments, a net will be discharged at one of the deployed target cubesats to demonstrate net capture in space. The second capture experiment will see a harpoon launched at a deployable target plate, made of representative satellite panel materials — the first harpoon capture in orbit. The third experiment involves vision-based navigation by deploying the second cubesat and demonstrating rendezvous navigation using cameras and a LiDaR. Finally, the RemoveDEBRIS spacecraft will deploy a large dragsail to speed de-orbit, where it will burn up as it enters Earth's atmosphere.

The U.S. Space Surveillance Network tracks 40,000 objects and it is estimated that there are more than 7,600 tonnes of space junk in and around Earth's orbit — with some moving faster than a speeding bullet, approaching speeds of 30,000 miles per hour.

Professor Guglielmo Aglietti, Director of the Surrey Space Centre at the University of Surrey, said, "It is important to remember that a few significant collisions have already happened. Therefore, to maintain the safety of current and future space assets, the issue of the control and reduction of the space debris has to be addressed.
We believe the technologies we will be demonstrating with RemoveDEBRIS could provide feasible answers to the space junk problem — answers that could be used on future space missions in the very near future."

Aurélien Pisseloup, Space Engineer at Airbus, said, "Airbus has been investing in new technologies for space debris removal in co-operation with space agencies and institutes. Contributing to this exciting mission with our expertise and concretely with our harpoon, net experiments and vision based navigation (VBN) moves the international space community one big step forward in tackling space debris."

RemoveDebris is a low-cost mission funded jointly by the European Commission (EU) and 10 partners. Surrey Space Centre (University of Surrey) leads the consortium. The consortium consists of: Airbus, the world's second largest space company; Ariane Group (France); Surrey Satellite Technology Ltd, the world leader in small satellites (UK); Innovative Solutions In Space (Netherlands); CSEM (Switzerland); Inria (France); Stellenbosch University (South Africa).
Science Minister, Sam Gyimah, said, "Space debris is a growing concern so it's great to see a British university and our innovative space sector leading the way in the search for solutions. It is also a fantastic example of the unique expertise found in the UK's growing space sector and the value that it adds to international projects.
The UK Space Agency continues to work closely with industry to develop new technologies and infrastructure to grow our share of the global space market as part of our modern Industrial Strategy."

The research leading to these results has received funding from the European Union Seventh Framework Programme (FP7/2007-2013) under grant agreement n°607099.
Dragon will return to Earth with more than 3,900 pounds of cargo after an approximately one-month stay at the International Space Station. About five hours after Dragon leaves the space station, it will conduct its deorbit burn, which lasts up to 10 minutes. It takes about 30 minutes for Dragon to reenter the Earth's atmosphere and splash down in the Pacific Ocean off the coast of Baja California.