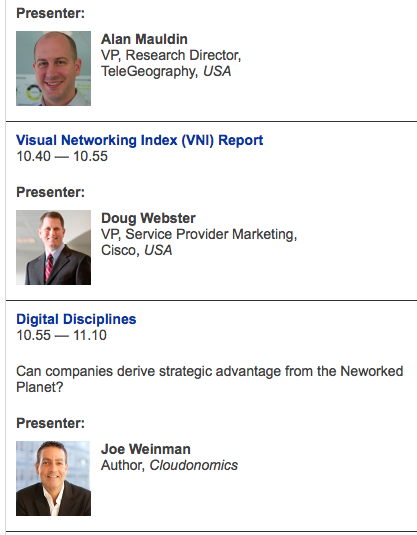 [SatNews] PTC'15 will be providing a hub of information in a warm and welcoming atmosphere, the Hilton Hawaiian Village.
Keynote speaker Alan Mauldin will examine TeleGeography's latest data on international Internet capacity and discuss whether the United States is still the leading international Internet hub, what new Internet hubs are emerging and what impact content provider networks are having on Internet capacity growth.
Successful firms tend to become large, bureaucratic, and at times arrogant. They focus on their current crises, are risk averse, and are reluctant to cannibalize their current successful products. Thus they miss the next big innovation. Success requires a culture of relentless innovation.
The components of this culture are a focus on future mass markets, embracing risk, and cannibalizing current successful products.
This culture is very difficult to change in the short term. Three levers or practices are identified to create this culture: promoting internal competition, setting asymmetric incentives, and empowering innovation champions.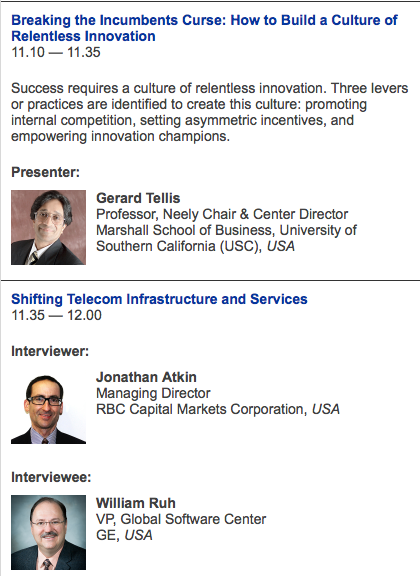 Now in its 37th year, TC's annual conference is the Asia-Pacific's telecommunications event.
The annual conference is a strategic springboard for the global telecommunications industry. The Conference provides all attendees with a three-day platform to focus on planning, networking, and discovering what the new year will bring.
Networked Planet will explore the next generation of networking, including core data transport, machine-to-machine, social networking, distributed big data and distributed queries, and the Internet of Things.
The conference program will also examine enhancements to the subsea cable plant, satellite networks, terrestrial and mobile and the new applications and new global strategies for global and regional network service providers and over-the-top players they are enabling.
An annual event, the PTC Women's Breakfast serves as a forum for women to network, reconnect, and participate in candid, thought-provoking conversations.

You can sign up for breakfast to talk about careers, industry insights, challenges and opportunities facing women in the industry today, and more.
Over 240 member organizations with more than 3,400 delegates and over 50 individual members comprise PTC's membership. Altogether, PTC's members represent more than 40 nations and a range of sectors across telecommunications, information and communication technology (ICT), and related industries.
PTC membership is open to any person or entity worldwide with professional interests in the Pacific region pertaining to telecommunications, information technology, or related fields.