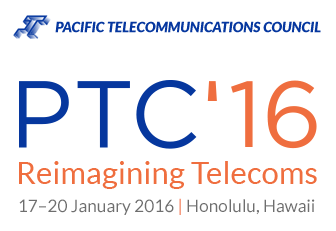 [SatNews] Preparations for the next mobile standard of 5G will necessitate up to 10 Gbps for every user.
PTC'16's upcoming conference in Honolulu, Hawaii from January 17-20, 2016 is themed 'Reimagining Telecoms". In preparation for the conference a call for proposals has been issued.
Consumers have come to expect—and technology and capital investment have continued to deliver—exponentially increasing bandwidth for wireline and wireless services.
Gigabit wireline networks will soon reach tens of millions of households globally. The next mobile standard—5G—calls for up to 10 Gbps for every user. Several new low-Earth and medium-Earth orbit satellite constellations are being planned, promising up to 1.2 Gbps per user. Unmanned aerial vehicles and balloons are under investigation to reach the "unconnected." Subsea cable capacity is continuously increasing.
Such abundance is helping enable greater reach—connecting far-flung, formerly isolated regions—and greater reliability—through route, technology, and vendor diversity. However, this abundance has implications and challenges for customers, service providers, and third parties ranging from app developers to network equipment vendors.

Questions such as:
What new and existing applications will drive and require such bandwidth?
How will the application economy evolve if it can leverage such powerful global platforms?
What are the implications for service provider pricing?
What happens as free apps replace formerly profitable services and free transport services replace paid carrier services?
How must the global regulatory and policy environment evolve?
How will cybersecurity threats—and defenses—evolve?
PTC'16 will explore how ecosystem participants must reshape their strategies, revenue models, products and services, processes, customer relationships and regulatory strategies, and how every industry and organization adapts to an era of communications and computing abundance. To learn more details about the PTC'16 Call for Participation, please download the brochure.
Topics will include:
Wireless
Network Infrastructure Development
Satellite
Subsea Cable
Software-Defined Networks (SDN)/Network Functions Virtualization (NFV)
Cloud, Big Data, and Internet of Things (IoT)
Societal Impact
Regulation and Policy
Cyber Security
The Digital Divide