Arianespace welcomed two arrivals today in preparation for a March launch while preparing for today's launch that took off right on time... to the second.
Liftoff of the mission, designated Flight VA235 in Arianespace's launcher family numbering system took place today, February 14 with a launch window at 6:39 p.m. in French Guiana (21h39 UTC). The two relay platforms are to be deployed into geostationary transfer orbit during a 40 minute mission.
Earlier today Arianespace welcomed Brazil's SGDC geostationary defense and secure communications satellite and South Korea's Koreasat 7 telecommunications satellite, both built by Thales Alenia Space are slated for a dual launch on March 21 by Ariane 5
Released first during Flight VA235 will be SKY Brasil-1, developed by AT&T/DIRECTV via its DIRECTV Latin America subsidiary to expand direct-to-home high definition (HDTV) programming. The 6,000-kg.-class satellite was produced by Airbus Defence and Space in Toulouse, France, using the spacecraft manufacturer's Eurostar E3000 platform, and is fitted with 60 Ku-band transponders. Arianespace's order book includes 17 more Airbus Defence and Space satellites to be launched.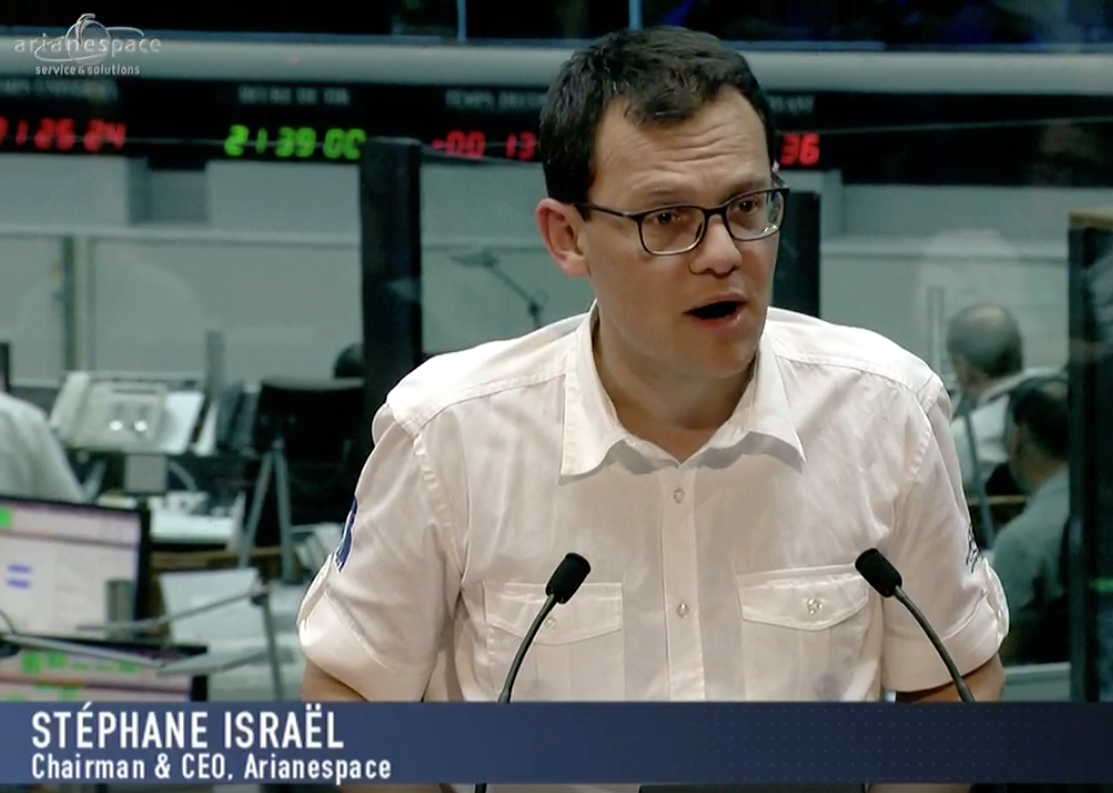 SKYB-1 will be positioned at 43.1 degrees West, and will cover Brazil providing services to 12.5 million subscribers in Latin America, primarily Venezuela, Argentina, Chile, Colombia, and Brazil. SKYB-1 will be the tenth satellite launched by Arianespace for the operator AT&T/DIRECTV. The most recent launch was on May 27, 2015, launching Sky México-1 and DIRECTV 15 on the same Ariane 5.
Approximately 12 minutes after SKY Brasil-1's separation will be the deployment of Telkom 3S, designed for the delivery of high-definition television services as well as mobile communications and Internet applications for Telkom Indonesia. The 3,550-kg. relay platform was built by Thales Alenia Space, Toulouse and Cannes, France, based on the Spacebus 4000B2 platform.
Telkom 3S will be the third satellite that Telkom Indonesia enlists to Arianespace after negotiating a contract with Thales Alenia Space. Telkom Indonesia is an Indonesian state-owned company that supplies telecommunications, information, media and entertainment services (TIMES) to millions of customers throughout the Indonesian archipelago. Telkom 3S will provide high-definition television services (HDTV), as well as mobile communications and Internet applications.
Positioned at 118 degrees East, Telkom 3S will provide C-band coverage of Indonesia and Southeast Asia, while extended C-band beams will cover Indonesia and part of Malaysia. It also is fitted with Ku-band transponders dedicated to national coverage.
Telkom 3S, built in Toulouse and Cannes, France, using a Spacebus 4000B2 platform, is the 146th satellite built by Thales Alenia Space to be launched by Arianespace. The Arianespace order book includes nine more Thales Alenia Space satellites to be launched.
Flight VA235 is one of up to 12 Spaceport missions to be operated during the year by Arianespace's launcher family, which also is composed of the medium-lift Soyuz and lightweight Vega. Of the total, as many as seven liftoffs in 2017 will utilize Ariane 5s – developed and built by Airbus Safran Launchers as production prime contractor.

The next mission after Flight VA235 is scheduled for early March with Vega, deploying the Sentinel-2B Earth observation satellite into a Sun-synchronous orbit.

Arianespace opened its 2017 launch activity on January 27, when a Soyuz vehicle orbited Hispasat 36W-1 on a trajectory that injected the telecommunications satellite into geostationary transfer orbit.

http://www.arianespace.com
https://www.thalesgroup.com/en/worldwide/space/space