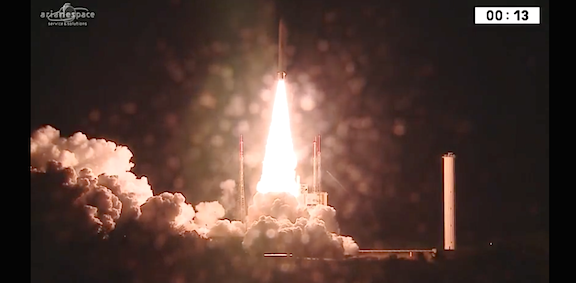 Bon chance! and indeed, all went well on a June 1 evening for the Ariane 5 whisking its payload to get ready to transfer the dual-satellite payload of ViaSat-2 and EUTELSAT 172B into geostationary transfer orbit. Liftoff of the Ariane 5 took place at the opening of a one hour window, with the launch marked 23:45 UTC at the Kourou spaceport in French Guiana.
This is Arianespace's sixth mission overall in 2017 in which ViaSat-2 will be released first which is designated Flight VA237 in Arianespace's launcher family numbering system. The spacecraft, with a liftoff mass estimated at 6,418 kg., will be operated from an orbital position of 70 degrees West by ViaSat, a global broadband services and technology company based in Carlsbad, California.
The Boeing-built ViaSat-2 relay platform is designed to bring considerable improvements in terms of speed, lower costs and extended broadband coverage within its footprint, which includes North and Central America, plus the Caribbean, northern South America, and the aeronautical and maritime routes in the Atlantic Ocean between North America and Europe.
Completing Flight VA237 will be EUTELSAT 172B's deployment by Ariane 5. This spacecraft will join the fleet of Paris-based Eutelsat, a leading satellite operator in Europe, the Middle East and Africa, and has a liftoff mass set at 3,551 kg.

EUTELSAT 172B is to be located at an orbital position of 172 deg. East for Asia-Pacific reach over land and sea from Alaska to Australia, delivering increased capacity for fast-growing applications that include in-flight and maritime connectivity, cellular backhaul, corporate networks, video distribution and government services. The spacecraft was built by Airbus as the initial all-electric telecommunications satellite produced in Europe—and the first of its type to be orbited by Ariane 5.