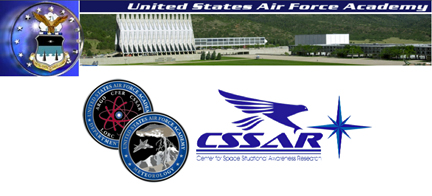 [SatNews] Researchers in the Air Force Academy 's Department of Physics' Center for Space Situational Awareness Research now have new university partners around the globe, thanks to a project combining satellite research with educational outreach.
Otero Junior College is the first of 12 partners to build an observatory and install a telescope for the purpose of Academy research into satellites and other space objects Otero's telescope was installed this week at its La Junta, Colorado, campus. The community college paid for the building and infrastructure , while the Academy—through its Defense University Research Instrumentation Program grant from the Air Force Office of Scientific Research—provided the 20-inch telescope, instrument and dome.
"We're excited to be a part of the worldwide network that will be tracking satellites , and that will allow our students access to study astronomy while linked to the skies in different parts of the world," said Otero's president James Rizzuto. "For the rest of the community, for our K-12 students, it gives them an opportunity to begin to develop an interest in astronomy as part of the Falcon Telescope Network ."
In addition to a telescope at the Academy's recreational area in Woodland Park, the CSSAR has agreements in place with Northeastern Junior College in Sterling, Colorado, Colorado Mesa University in Grand Junction, Colorado.; and Fort Lewis College in Durango, Colorado. The Colorado network will be joined by a telescope at Pennsylvania State University and one at the Mamalluca Observatory in Vicuna , Chile. Officials in Canberra, Australia are also building an observatory to house one of the Falcon telescopes .
The Academy is waiting to sign agreements another locations, filling slots for the remaining four telescopes When the Falcon Telescope Network is finished, in about a year, researchers around the world will have access to study satellites in different parts of their orbits, said Dr. Francis Chun, Director of the CSSAR and the researcher overseeing the project. "Satellites aren't close enough to get a really good photo of them," he said. "So you have to gather information about the sunlight reflected by them to try to figure out their composition and the ir space utilization. This network will allow us to gather the data and make those calculations more accurately ."
Chun stated the network will also serve two other functions: Astronomy research and outreach for Science, Technology , Engineering and Mathematics education varying from kindergarten through college students. Also, the research doesn't require sending people to far-flung places like Chile or Australia, he said. Instead, the telescopes can be accessed via a computer from other areas on the globe.
"We will collect observations from a variety of different locations, sometimes simultaneously , or sometimes continuously," he said, "as the satellite goes from over one site in its orbit and into another site. The data collected would give us a more complete picture of the satellite's features."
Plus, the information is interesting to several agencies—Space Command at Peterson Air Force Base, the Defense Advanced Research Projects Agency, the Air Force Research Laboratory, and NASA.
"Really, it's the Department of Defense in general," he said. "It's good to know what other satellites are doing in space. The bottom line is that any domain the U.S. operates in—air, space, cyberspace—we want to know what's out there? Who's out there and what are they doing? If something changes, what does that mean? Is it a threat? We always need awareness of the battlespace - and in this case, it happens to be space."
However, before the information can be gathered, there need to be more locations for the telescopes. In addition to the eight locations already under construction, Chun says he's talking with universities in Perth, Australia; in Germany ; South Africa; Italy and Hawaii. "We're actually talking to more people than we have telescopes, " he said. "So, we'll just have to see who signs up first."
It's not all about scientific research for space situational awareness, he said. The telescopes are going to be used for STEM programs at the colleges and sites .
"What we envision are having K-12 educators submit observational requests to the network ," he said. "The images will be collected by telescopes half way around the world and sent back. It will be a great tool."
The telescopes will automatically take some images and keep them in a database for publicly available images from different spots on the globe , he said.
"This is a big project," Chun said. "It's pretty ambitious. Once it's up and running, we'll be able to track satellites wherever they are in their orbit."
For further information regarding CSSAR, access this direct infopage link.