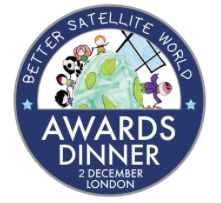 New nominees for this year's Space & Satellite Professionals International's (SSPI) Better Satellite World Awards were announced and it is a young and lively group with interesting names as well ... BIRDS, Geeks, and the UK.
Space & Satellite Professionals International (SSPI) announced today the recipients of the fifth annual Better Satellite World Awards. The awards honor established companies along with disruptive innovators who make the world a more prosperous, healthier, better-educated, sustainable and inclusive home for humankind. An international jury selected the BIRDS Satellite Project, Geeks Without Frontiers Sustainability Models for the Global Fishing Industry and the UK Space Agency International Partnership Programme to receive this year's awards. The recipients will be honored at the Better Satellite World Awards Dinner on December 2 in London.
SSPI Director of Innovation and Development Lou Zacharilla said that the satellite industry continues to show its technical prowess but always in service to a better world. This year's group of recipients are exemplary in that regard.
The selection of the recipients for the Better Satellite World Awards was made by an international jury consisting of a broad cross-section of industry thought leaders and distinguished professionals. This year, the jury decided to extend an honorable mention to Planet, for their work documenting the destruction of Rohingya villages and coral reef conservation.
The jury also chose to extend a special humanitarian recognition to the Avanti iMlango Project to reach students in marginalised areas in Kenya with individualised school instruction.
The Better Satellite World Awards Dinner in London is produced by SSPI and its UK and Isle of Man Chapters, with the support of international law firm Milbank as well as Advantech Wireless, Airbus, CPI, Eutelsat, SES, Speedcast and Walton De-Ice.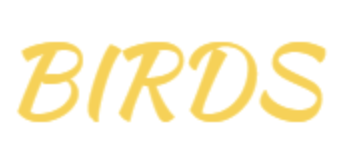 The 2019 Better Satellite World Award Recipients:
BIRDS Satellite Project
The Joint Global Multi-Nation Birds Satellite (BIRDS) Project was initiated in 2015 by the Kyushu Institute of Technology, Japan with the help of over ten partner institutions. It was envisioned by Dr. Mengu Cho, Professor at Kyutech, who became Principal Investigator for the Project. The BIRDS Project trains graduate students from many developing countries in using innovative and cost-effective systems engineering during the course of a two-year satellite project. The BIRDS project was selected by the Global Engineering Deans Council (GEDC) as the winner of the 2017 GEDC Airbus Diversity Award for diversity in engineering. The Project has provided training for students from many countries including: Bangladesh, Bhutan, Egypt, Ghana, Malaysia, Mongolia, Nepal, Nigeria, Paraguay, the Philippines, Sri Lanka, Sudan, Thailand, and Turkey.
One BIRDS project is begun each year, with 2019 marking the fourth generation (BIRDS-4) since the Project's inception. The yearly projects are carried out by graduate students enrolled at Kyutech for a masters or doctoral degree, and such projects are supervised by four Kyutech faculty members. During these two-year satellite projects, the students design, develop, and operate CubeSats belonging to participating countries. Since 2015, the BIRDS Project has trained fifty-two graduate students, thirty-two of whom hail from under-represented countries, and launch eleven 1U CubeSats. Click here to read more about the BIRDS Satellite Project.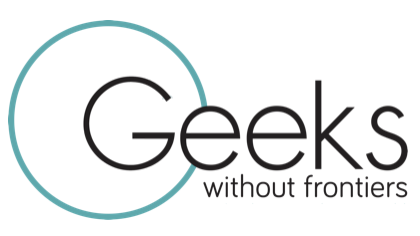 Geeks Without Frontiers
Geeks Without Frontiers (Geeks) is a platform for global impact. A technology neutral nonprofit, Geeks' mission is to bring the benefits of broadband connectivity – health, education, poverty reduction, gender equality and the other UN Sustainable Development Goals (SDG's) – to the estimated 3.5 billion people who remain unconnected.
Sponsored by government and private-sector stakeholders, Geeks has developed a commercially sustainable, satellite-based connectivity model, designed to help address forced labor and human trafficking in the commercial fishing industry. While initially focused on Southeast Asia (the largest regional exporter for the global fishing industry), the Geeks model is a scalable template applicable to commercial fishing supply chains globally.
In addition to addressing Human Rights concerns via vessel geo-positioning and providing connectivity to the crew, the model has commercial benefits for vessel owners including the ability to transmit catch reports, monitor weather, conduct safe navigation and send distress signals. The same model can also be used to better address Illegal Unreported and Unregulated fishing, overfishing and seafood fraud. Click here to read more about Geeks Without Frontiers.

UK Space Agency – International Partnership Programme
The UK Space Agency's International Partnership Programme (IPP) is a five-year, £30M/year 'space for development' program established in 2016, and currently the largest undertaking of its kind in the world. It focuses on utilizing the UK space sector's research and innovation capabilities to deliver sustainable economic and societal benefits to emerging and developing economies around the world. IPP has so far grant-funded 33 projects in 44 countries across Africa, Asia-Pacific and South America, which are run by a large variety of UK and international organisations across industry, academia and non-profit entities. These projects address a variety of critical issues, including reducing deforestation, climate/disaster resilience, remote learning, land-use monitoring, reducing maritime problems, health and renewable energy. The projects generally take between two and five years to be delivered, and range from £500k to £15M in grant value plus match funding. IPP's portfolio of partners now include 122 space sector organisations and 132 international organizations.
The IPP website outlines the goals and benefits of each project, its activities and results, and provides links to open-source study documents. This data is available to any organization (e.g. development agencies) seeking advice, case studies and information for their databases to improve future projects