[Satnews] As Unmanned Aircraft Systems (UAS) usage proliferate across the globe for Defense & Intelligence and commercial imaging purposes, NSR's UAS Satcom & Imaging Markets, 2nd Edition report explores the opportunities in the UAS markets for both satellite communication operators and remote imaging companies. This completely updated NSR study provides a comprehensive market analysis of the Satcom requirements and forecasts of large UAS like Global Hawks or Reapers, as well as small UAS (SUAS) imaging as a service.
Building on a decade of data and analysis from NSR's popular Government & Military as well Satellite-Based Earth Observation reports, this study presents readers with an in-depth look at regional conditions, satellite capacity demand, commercial imaging market prospects, and demand drivers of UAS globally over the next ten years.
The report is structured into two parts—UAS Satcom and UAS Imaging. The Satcom analysis includes Defense and Intelligence (D&I), and Civilian Government markets for High Altitude Long Endurance (HALE) and Medium Altitude Long Endurance (MALE) UAS, in terms of the growth in airframe units, Satcom terminals, and retail revenues per frequency band. Segmented regionally and including scenario-based forecasting, it offers not only an overview of the UAS and Satcom ecosystem, but a thorough look forward at future development of long endurance UAS as a potential complement or competitor of the satellite communications industry.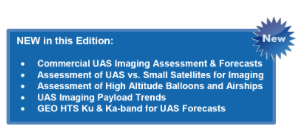 The Imaging portion of the report analyses the global market for commercial SUAS as a service for imaging and video applications across five industry verticals and five regions. The forecasts cover three scenarios with explanations of the drivers and restraints NSR believes will lead to market growth in the next ten years.
The report answers the following critical questions regarding UAS Satcom & Imaging:
What will be the UAS Satcom market size in the next 10 years?
How will each regional market evolve for both Defense & Intelligence and Civilian UAS?
How will government budgets impact Satcom demand for UAS?
How do SUAS provide imagery, and what will be their impact on satellite-EO markets?
What is the market size of SUAS imaging, and how will it evolve in the next ten years?
Which regional market will see the highest growth is SUAS imaging revenues?
What types of payloads and sensors are being used on both small and large UAS?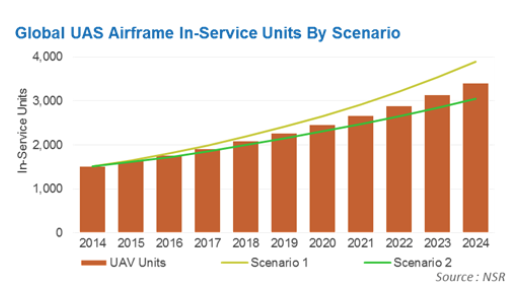 The report's findings are aimed at enabling Satcom service providers to plan accordingly so as to capitalize on the market opportunities that the proliferation of UAS poses, and also allocate their Satcom resources efficiently across the globe by understanding the demand dynamics. It also provides investors and EO satellite operators insights into the emerging commercial UAS imaging growth across various vertical markets. This report features the most detailed analysis of the UAS markets, including its impact on the satellite industry and provides the reader with actionable intelligence.