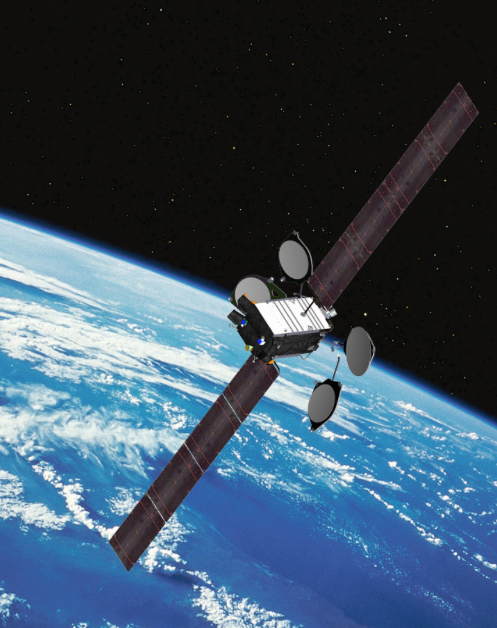 Leaving last month's turmoil well behind all eyes in French Guiana at Arianespace's Spaceport are on Russia's Soyuz medium-lift rocket as it prepares its payload for the mission of launching the SES-15 telecommunications satellite for European-based operator SES.

Scheduled for liftoff on May 18 at 8:54:53 a.m. local time in French Guiana, Soyuz will carry out a 5-hr., 18-min. mission from launch to SES-15's separation into a sub-geostationary transfer orbit. Fregat, which is responsible for the final orbital maneuvers, will perform two burns separated by a four-hour-plus ballistic phase to reach the targeted deployment point.
Inside the Spaceport's S3B clean room facility specialists begin with the installation of SES-15 atop Soyuz' Fregat upper stage, enabling its encapsulation in the two-piece protective payload fairing. The completed unit, called the "upper composite," will be mated atop Soyuz after the vehicle's rollout from the MIK integration building, where launcher assembly is handled, to the ELS launch zone.
SES-15, its first hybrid satellite, will offer a mix of widebeam coverage and high throughput (HTS) capacity. The satellite will provide additional Ku-band wide beams and Ku-band High Throughput Satellite (HTS) capability, with connectivity to gateways in Ka-band. SES-15 will serve the thriving aeronautical sector and will enable other traffic-intensive data applications such as government, VSAT networks and maritime.
The satellite will carry a Wide Area Augmentation System-hosted (WAAS) payload, that will enable the US Federal Aviation Administration (FAA) to augment the Global Positioning Systems (GPS) with the goal of improving accuracy, integrity and availability for the aviation industry. The satellite will be equipped with an electric propulsion system for orbit raising and in-orbit maneuvers.
SES-15 will be the 40th spacecraft orbited by Arianespace for SES, and this will be the first use of the Soyuz from French Guiana. The Boeing-built satellite has an estimated liftoff mass of 2,302 kg., with the mission's total lift performance set at 2,447 kg. – taking into account the payload integration equipment and other hardware.

Arianespace's May 18 mission, designated Flight VS17 in the company's numbering system, will be the second-ever launch to geostationary transfer orbit performed by Soyuz from Europe's Spaceport in French Guiana. The first was conducted earlier this year, with the Hispasat 36W-1 satellite successfully deployed on January 27.
SES-15 is the 40e satellite to be launched by Arianespace for the European satellite operator SES, following ASTRA 5B – orbited by an Ariane 5 in March 22, 2014. SES is the first to deliver a differentiated and scalable GEO-MEO offering worldwide, with more than 50 satellites in Geostationary Earth Orbit (GEO) and 12 in Medium Earth Orbit (MEO).
Positioned at the new orbital location of 129 degrees West, SES-15 will offer extensive coverage over North America, Mexico and Central America, stretching from Arctic Alaska to the South of Panama and from Hawaii to the Caribbean.
SES-15 was built by Boeing in El Segundo – California, using the all-electric 702SP platform and is the 53rd Boeing-built satellite to be launched by Arianespace.