For its sixth launch of the year, and the 15th Vega mission since this launcher began its career at the Guiana Space Center in 2012, Arianespace will orbit the FalconEye1 satellite for the United Arab Emirates.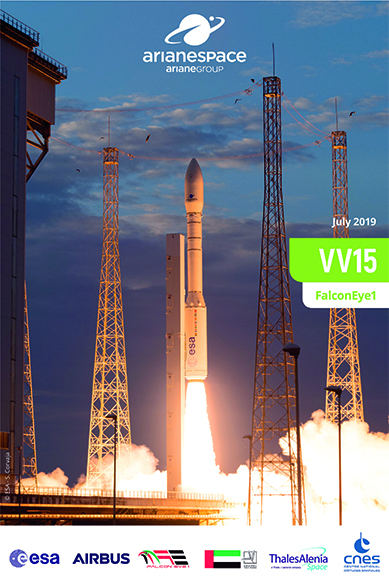 This Earth Observation (EO) satellite for the United Arab Emirates was developed by Airbus Defence and Space as prime contractor and Thales Alenia Space as co-prime. Flight VV15 marks the 12th EO mission for Vega.
Flight VV15 will be performed from the Vega Launch Complex (ZLV) in Kourou, French Guiana (South America).
Lift-off is scheduled for Friday, July 5, 2019 at exactly 9:53:03 p.m., Washington D.C., USA time.The nominal duration of the mission (from liftoff to separation of the satellite) is 57 minutes, 11 seconds, with the targeted orbit for the FALCONEYE1 satellite being in SSO at 611 km. The Launch Readiness Review (LRR) will take place on Thursday, July 4, 2019, in Kourou to authorize the start of operations for the final countdown.
The FalconEye satellite is a high performance optical EO satellite system for the Armed Forces of the United Arab Emirates (UAEAF). The overall system is based on two identical satellites, FalconEye1 and FalconEye2, in SSO. Each satellite features an EO payload, with very-high-resolution optical capabilities. It is equipped with a ground system for monitoring, receiving and processing the images.
The FalconEye1 satellite, to be orbited by Flight VV15, will be the first space component of the system, and will have a dual use purpose: support the needs of UAE Armed Forces and provide the commercial market with images. The satellite will weigh approximately 1,197 kg. at launch and will be raised to a heliosynchronous orbit at 611 kilometers.
As satellite prime contractor, Airbus Defence and Space was in charge of the satellite design, integration and tests, and supplied the platform. Thales Alenia Space, as co-prime, designed and supplied the optical Instrument and the image chain.