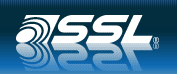 How quickly the delay of one year was forgotten yesterday when ILS successfully launched the EchoStar XXI satellite. Further, SSL which designed and built the satellite, was able to perform their post-launch maneuvers.
Space Systems Loral's Statement
Palo Alto, CA Space Systems Loral (SSL), a leading provider of innovative satellites and spacecraft systems, today announced that the EchoStar XXI satellite, designed and built for EchoStar Corporation (NASDAQ: SATS), was launched yesterday and is successfully performing post-launch maneuvers according to plan. The satellite deployed its solar arrays on schedule following its launch aboard a Proton Breeze M vehicle provided by International Launch Services (ILS). The satellite, which will be used by EchoStar's subsidiary, EchoStar Mobile Limited, for mobile voice and data communications services in Europe, will begin thruster firings tomorrow to navigate to its final geosynchronous orbital slot. SSL is a subsidiary of MacDonald, Dettwiler and Associates Ltd. (TSX:MDA), a global communications and information company.
"I would like to thank EchoStar, ILS and the SSL engineers and technicians whose patience, commitment, and teamwork helped make the EchoStar XXI launch a success," said John Celli, president of SSL. "EchoStar and SSL have worked together for many years and both of our companies share a focus on providing reliable and innovative solutions to our customers. We are very pleased that EchoStar XXI is launched and performing as planned."
EchoStar XXI is an S-band satellite for next generation Mobile Satellite Services (MSS) that will be located at 10.25 degrees East. It features a large unfurlable reflector that will deploy after the satellite is on station. Based on the SSL 1300 platform, the satellite is designed to provide service for 15 years or more.
EchoStar Mobile will utilize a portion of EchoStar XXI's capacity to provide mobile satellite services (MSS) capacity throughout the European Union. EchoStar Mobile is an EU-wide licensee for an integrated mobile satellite service network with a complementary ground component.
"EchoStar XXI will provide commercial wholesalers with a new, advanced network for reliable, IP-based MSS voice and data services in Europe," said Anders Johnson, executive director of EchoStar Mobile and president of EchoStar Satellite Services L.L.C. "SSL has been a trusted and innovative partner in the expansion of our highly advanced satellite fleet."
SSL has built more than a dozen satellites for EchoStar and its affiliates, including the world's highest capacity broadband satellite, EchoStar XIX, which was successfully launched in 2016. SSL-built EchoStar XXIII was successfully launched in March 2017 and is providing service according to plan.