[SatNews] A successful launch occurred today at Arianespace's facility in French Guiana. To achieve such a goal it takes a team, and below are four agencies' reports/comments.
July 15, 2015 – Ariane Flight VA224
Arianespace
Arianespace marked the halfway point in its fast-paced 2015 operational schedule today with the 66th consecutive successful Ariane 5 launch, which deployed two satellites into geostationary transfer orbits for very diverse roles.
Ariane 5 Flight VA224 lifted off at the beginning of its launch window at 6:42 p.m. local time from the Spaceport's ELA-3 launch complex in French Guiana, carrying a mixed-mission satellite payload composed of the Star One C4 telecommunications relay platform for Embratel Star One and Eumetsat's MSG-4 for meteorological monitoring.
Tonight's flight was Arianespace's sixth from French Guiana this year with its complete launcher family—underscoring the company's ability to meet an increased mission pace, while it carries out its dual mission: to be a leader in commercial space transportation and guarantee Europe's independent access to space.
"We have performed six launches already, in line with our busy manifest targeting up to 12 launches for 2015," said Arianespace Chairman and CEO Stéphane Israël in his post-launch comments. "Arianespace is demonstrating—launch after launch —its capability to increase its operational pace while remaining the most reliable solution for all its customers."
This evening's success at the service of two-long standing customers, Brazilian operator Embratel Star One and Europe's Eumetsat, also reaffirms Arianespace's dual mission: to be a leader in commercial space transportation and guarantee Europe's independent access to space.
The 80th Ariane 5 flight is a success
Ariane 5 lifts off from the Spaceport in French Guiana to begin its successful Flight VA224 with Star One C4 and MSG-4, which were the 511th and 512th spacecraft launched by Arianespace.
In addition, the 40-minute flight marked another mission accomplished for Arianespace's reliable heavy-lift Ariane 5, which carried a total payload of nearly 8,590 kg. on its 80th launch from the Spaceport in French Guiana.
Israël cited the contributions of Ariane 5's prime contractor, Airbus Safran Launchers, and the industrial network for continued deliveries of the heavy-lift launcher, "without deviating from the highest quality standards which have made its fame worldwide."
He also recognized the key support of the European Space Agency (ESA) and its member states, along with the French CNES space agency's personnel at the Spaceport in French Guiana, and Arianespace's teams in establishing Ariane 5's unrivalled track record of success.
Extended telecommunications services for Embratel Star One
Riding in the upper position, Embratel Star One's Star One C4 was deployed first in the flight sequence at more than 28 minutes after liftoff. This telecommunications satellite, which was designed and built by SSL (Space Systems/Loral), will reinforce direct-to-home services in Brazil, while expanding access to other Latin American countries, and the mainland United States for Embratel Star One, which is the largest satellite operator in South America. The deployment of Star One C4 continues Embratel Star One's 30-year collaboration with Arianespace, during which the launch service provider has lofted 10 satellites for this Brazilian operator.
Another step in Arianespace's partnership with Eumetsat
Europe's Eumetsat weather, climate and environmental monitoring organization is another long-time partner of Arianespace, with MSG-4's successful separation some 40 minutes after liftoff marking the latest step in a relationship that extends back to Arianespace's beginnings.
Produced by Thales Alenia Space, MSG-4 is the 10th Meteosat satellite launched by Arianespace, as well as the fourth and final satellite in the Meteosat Second Generation (MSG) series of spacecraft, which play an important role in supporting the detection and forecasting of high-impact weather.
MSG-4 is being stored in orbit following its launch and commissioning. Once operational, it will be renamed Meteosat-11, and bridge the gap between Meteosat-10 (launched by Ariane 5 in 2012) and the first Meteosat Third Generation (MTG) satellites, which are planned for launch in 2019 and 2021.
Six launches… and counting
Flight VA224 was Arianespace's third heavy-lift mission so far this year, following Flight VA223 on May 27 and Flight VA222 on April 26. Arianespace has also performed two light-lift Vega missions (Flight VV04 on February 11 and June 22's Flight VV05), along with one flight of its medium-weight Soyuz vehicle: Flight VS11 on March 27.
Next up in the company's launch manifest is another Ariane 5 mission—Flight VA225, which is planned for August 20 to deploy EUTELSAT 8 West B and Intelsat 34 to geostationary transfer orbit.
EUMETSAT
Alain Ratier, EUMETSAT's Director-General, said, "With MSG-4 en route towards geostationary orbit, we are preparing for a safe and smooth transition to Meteosat Third Generation. After commissioning, MSG-4 will be stored in orbit for 2.5 years, and will then be exploited until two MTG-I satellites become operational in orbit, in 2023."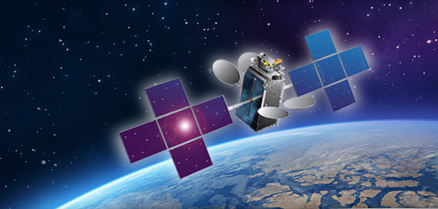 The Meteosat services from geostationary orbit cover the European and African continents and parts of the Atlantic and Indian oceans. The Meteosat satellites also provide a unique observational input to Numerical Weather Prediction models, complementing the primary inputs delivered by the polar-orbiting Metop satellites. The satellites have already accumulated climate data records of more than 35 years.
The EUMETSAT Director-General congratulated Arianespace and the ESA and CNES teams at the Guiana Space Centre in Kourou for another success of Ariane and for the excellence of the launch service. He also thanked all the teams which prepared the satellite and ground systems for launch, from EUMETSAT, ESA, the European industrial consortium led by Thales Alenia Space, which built the satellite, and from the Rutherford Appleton Laboratory which delivered the GERB instrument.
"Storing the satellite in orbit after launch and commissioning will save the additional costs of ground storage, de-storage and re-testing of the satellite. This will also ensure the satellite is immediately available to replace one of our ageing MSG satellites, whilst preserving the operational lifetime of MSG-4" Ratier concluded.
MSG-4 is the last of the MSG satellites resulting from the successful cooperation model with the European Space Agency (ESA). ESA is responsible for the development of satellites fulfilling user and system requirements defined by EUMETSAT and for the procurement of recurrent satellites on its behalf. EUMETSAT develops the ground systems required to control the satellites, acquire and process their data and deliver products and services to users, in response to their evolving needs. EUMETSAT also procures all launch services and operates the full system for the benefit of users.
All MSG satellites are manufactured by a European industry consortium led by Thales Alenia Space.
Space Systems/Loral
Space Systems/Loral (SSL), a leading provider of commercial satellites, today announced that a satellite designed and built for Embratel Star One, was launched yesterday and is successfully performing post-launch maneuvers according to plan. The satellite, Star One C4, deployed its solar arrays on schedule following its launch aboard an Ariane 5 launch vehicle from the European Spaceport in Kourou, French Guiana. It will begin firing its main thruster later today in order to propel it toward its final geosynchronous orbit. The launch marks the 50th SSL mission with Arianespace.
"Yesterday we achieved two important milestones for SSL," said John Celli, president of SSL. "We celebrated the success of our first satellite for Embratel Star One and our 50th launch with Arianespace. Building and launching a satellite like Star One C4 takes close teamwork and collaboration and many long hours of hard work. I'd like to thank and congratulate both Embratel Star One and Arianespace and to extend my wishes for many more successes together."
Star One C4 features 48 Ku-band transponders, which will be used for Broadcast Satellite Services from its orbital slot at 70 West longitude. The satellite will provide Direct-To-Home television service in Brazil and will expand Embratel Star One's broadcasting services to other Latin American countries and to the United States.
"Star One C4 is an important satellite, because it expands our position as a regional satellite operator," said Gustavo Silbert, president of Embratel Star One. "We are pleased that the satellite is safely on orbit and we look forward to providing our exceptional service to a broader range of customers."
Star One C4 is based on the highly reliable SSL 1300 platform, which provides high-power and the flexibility to support a broad range of applications and technology advances. The satellite is designed to provide service for 15 years or more. With this launch, there are 79 SSL-built GEO satellites currently on orbit.
SSL is also building a second satellite for Embratel Star One, which will be launched in 2016. Star One D1 is a multi-mission satellite that includes a high throughput satellite (HTS) payload and will be used for telecommunications, television broadcast, broadband, Internet access and other services such as digital inclusion in Brazil and in the Latin American region.
ThalesAlenia Space
The fourth Meteosat Second Generation weather satellite, MSG-4, built by Thales Alenia Space and contracted by ESA on behalf of EUMETSAT, was successfully orbited by Arianespace using an Ariane 5 launcher from the Guiana Space Center in Kourou, French Guiana.
MSG-4 will be operated by EUMETSAT and will provide meteorological data and monitor the climate across Europe from its position in geostationary orbit at 36,000 kilometers above the Equator, at 3.4. West longitude. The last in a series of four second-generation satellites, MSG-4 will initially be stored in-orbit until it is needed as a replacement for the one of its predecessors, the MSG-1, MSG-2 and MSG-3 satellites, launched in August 2002, December 2005 and July 2012, respectively. MSG-4 becomes the 11th Thales Alenia Space weather satellite orbited since the end of the 1970s.
Building on nearly 40 years of experience in this demanding area, Thales Alenia Space is more than ever doing its utmost to maintain its European leadership in geostationary weather satellites providing global monitoring. MSG-4 will carry on the assigned mission for this second-generation family, namely to ensure continuous meteorological observation capacity for Europe until 2025.
Preparations are already under way for the next generation MTG (Meteosat Third Generation) satellites. For the first time, these satellites will feature a geostationary atmospheric sounding mission.
Meteosat Second Generation satellites have significantly improved the analysis of weather data. These spin-stabilized satellites (100 rpm) incorporate a number of advanced technologies. They deliver an updated image every 15 minutes (versus 30 minutes for first-generation satellites) and have also improved image quality due to a significant increase in the number of observation channels, along with better radiometric performance and revisit cycles cut in half.
"In the run-up to the COP21 climate change conference later this year, Thales Alenia Space is proud of its long-standing contribution to the Meteosat program," said Jean-Loïc Galle, President and CEO of Thales Alenia Space. "Over the last 30 years, millions of people have watched weather forecasts based on Meteosat images, seeing high- and low-pressure zones, cloud cover and other striking satellite pictures on their TVs. In addition to these daily weather forecasts, Meteosat satellites provide vital data used to predict violent weather-related events, including storms, hurricanes and flooding, while also monitoring long-term climate changes. Customers have placed their trust in us since the beginning of geostationary meteorological systems. We continue to capitalize on our unrivaled expertise to give them increasingly sophisticated satellites, such as the MTG already under construction. But we have also drawn on our expertise to develop two other satellites dedicated to the climate and environment, for launch this year: Jason-3 to carry on the operational oceanography mission, and Sentinel-3A for Europe's vast Copernicus program."
Airbus Defence and Space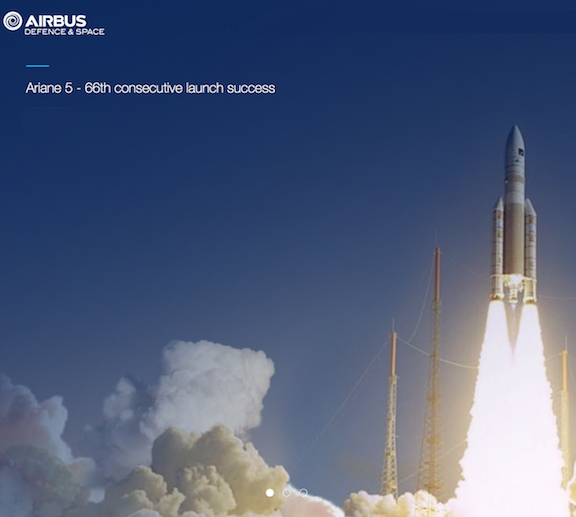 Ariane 5 has been successfully launched from Kourou, French Guiana, for the 66th time in a row, placing in orbit the fourth Meteosat Second Generation (MSG-4) satellite, over 50 percent of which was built by Airbus Defence and Space, the world's second largest space company. The company's most outstanding contribution to MSG-4 is the SEVIRI instrument, considered as the most capable weather instrument in geostationary orbit. Thales Alenia Space is prime contractor for all the Meteosatsatellites since the start.
"This has been a great moment for us. The 224th Ariane rocket, representing one of Airbus Defence and Space's greatest success stories, has just launched MSG-4, Europe's latest weather satellite. MSG-4 features our state of the art SEVIRI instrument as well as a host of our space proven subsystems to ensure reliability—bringing space down to Earth for the benefit of everyone," said François Auque, Head of Space Systems.
The SEVIRI (Spinning Enhanced Visible and Infrared Imager) instrument is an imaging radiometer that was designed and developed by Airbus Defence and Space. The instrument observes weather phenomena in the visible and infrared spectra across a third of the Earth's surface. This is the fourth SEVIRI instrument built for MSG and the 11th radiometer designed and developed by Airbus Defence and Space for the Meteosat constellation, the first instruments of which operated in space for up to 19 years. Since the first model began operating in orbit in 2004, SEVIRI has become a global benchmark in the design of the next generation of radiometers. It is the most reliable weather instrument currently in geostationary orbit.
MSG-4 will allow EUMETSAT, the European organisation for the exploitation of meteorological satellites, to guarantee continuity of the MSG service for more than 10 years.
The satellite is the last of the Meteosat Second Generation satellites resulting from the successful cooperation between EUMETSAT and the European Space Agency (ESA).
The main application of the Meteosat service from geostationary orbit is very short-range forecasting of high impact weather. The service also delivers unique inputs to weather prediction models, complementing the primary inputs delivered by the polar-orbiting MetOp satellites, which are also built by Airbus Defence and Space.
Airbus Defence and Space is a 50 percent shareholder in Airbus Safran Launchers and is the main industrial contributor to the Ariane 5 programme, one of the largest and most ambitious space programmes in the world. The industrial network brings together more than 550 companies (more than 20 percent of which are SMEs) in 12 European countries. Drawing on the expertise the company has acquired and the investments it has made over more than 10 years, Ariane 5 has become the most reliable commercial launcher on the global market and has increased its geostationary orbit payload capacity by almost two tonnes. Representing cutting-edge European expertise, the Ariane 5 launcher has been specially designed to inject heavy payloads into orbit.