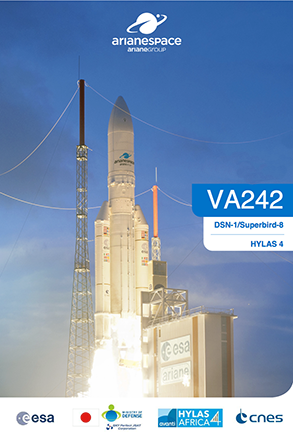 The DSN-1/Superbird-8 and HYLAS 4 satellites are another step closer to launch following the rollout of their heavy-lift Ariane 5 at the Spaceport in French Guiana.
With this transfer from the Spaceport's Final Assembly Building to the ELA-3 launch zone, Arianespace's third mission in 2018 can now enter its final countdown for liftoff on April 5.
Designated Flight VA242 in Arianespace's launcher family numbering system, tomorrow's Ariane 5 launch will deploy its two passengers to geostationary transfer orbit on a mission lasting just under 34 minutes from liftoff to final payload separation.
A launch for Japanese and UK operators
As the 19th SKY Perfect JSAT satellite entrusted to Arianespace for launch, DSN-1/Superbird-8 is a dual-use relay platform. Its Superbird-8 payload uses high-performance Ku- and Ka-band transponders for communications services primarily in the Japanese market.
The spacecraft's DSN-1 (X-Band Defense Communications Satellite-1) payload is associated with the Program to Upgrade and Operate X-Band Satellite Communications Function, for which the DSN Corporation – a subsidiary of SKY Perfect JSAT – has concluded a contract with Japan's Ministry of Defense.
The HYLAS 4 satellite to be orbited on Flight VA242 is Avanti Communications' third spacecraft for launch by Arianespace from the Spaceport in French Guiana. This platform will deliver high-speed, reliable and secure satellite communications in Ka-band to Internet service providers (ISPs), mobile network operators (MNOs), governments and satellite operators across Europe.
Ariane 5 will deliver a total payload lift performance of approximately 10,260 kg. on the mission to geostationary transfer orbit (GTO), which is designated Flight VA242. This total includes the two satellite passengers, plus the workhorse vehicle's dual-payload deployment system and integration hardware.