[SatNews] A low profile ensures the terminal is both aerodynamic and discrete, increasing safety of communication vehicles and personnel.

IBETOR, provider of satellite and wireless communications products and technology, today announced that it will be showcasing its latest Sat-On-The-Move terminal, Ib-SOTM 100x, at Satellite 2014 booth #2075.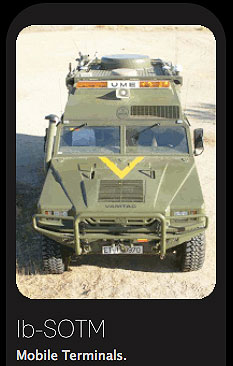 Ib-SOTM 100x, is specifically designed to enable efficient, high performance, on the move communications on even the most challenging terrain. A low profile ensures the terminal is both aerodynamic and discrete, increasing safety of communication vehicles and personnel.
The terminal incorporates an antenna control unit (ACU) developed by IBETOR with highly accurate INS technology to maintain satellite alignment compatible with X- and other future band requirements. It is compatible with modems from major suppliers and able to interoperate with all networks and authorized teleports.

Ib-SOTM 100x is extremely accurate, with less than 0.3 degrees pointing error and instantaneous reacquisition. As military vehicles can often be taken out of action at a moment's notice, the terminal is also very easy to install or change to a different vehicle.

"We understand the unique set of challenges faced by many of our military customers," commented Luis Villa, IBETOR president. "We believe this latest terminal will be extremely valuable for ensuring high performance, reliable communications in that environment."

IBETOR will also be demonstrating its Ib-Pack, a transportable, X-band manpack, fully integrated in a single case. It allows quick set-up and provides a user-friendly interface to establish a high-speed satellite connection in less than 2' with minimum training requirements. Ib-Pack Lite provides similar features while maintaining weight below 10Kg, thus allowing it to be easily carried by a single person. On its booth there will be a demonstration of Ib-NS, a sensor fusion platform that enables accurate positioning and navigation, even when wireless signals are blocked.

IBETOR will be exhibiting on booth #2075 at Satellite 2014 from 11th – 13th March. For further information, please visit. IBETOR is a Spanish company, focused on Satellite and Wireless Communications. IBETOR provides high performance satcom terminals (VSAT), compliant with strict military requirements, highly accurate navigation and positioning technology, and point-to-multipoint RF technology, based on an open architecture.

IBETOR was founded in 2009 with a strong focus on R&D, IBETOR develops its own technology, providing tailor-made solutions to specific client requirements. Its customers include military and civil organizations.