Satellite surveillance imagery captured by an Israeli satellite firm has revealed China's deployment of a spy blimp in an apparent effort to monitor disputed portions of the South China Sea.
In a Nov. 24 tweet, ImageSat International (ISI) revealed an image of what appears to be a Chinese airship, known as an aerostat, floating over the disputed Mischief Reef. The satellite surveillance firm suggested the airship is part of a broader effort by China to monitor movements around the disputed territorial waters.
"The use of #aerostat allows China a continuous situational awareness in this resource-rich region," the ISI tweet said.
China has been preparing a fleet of aerostats, outfitted with phased-array radars that may help it detect incoming low-flying planes, the South China Morning Post reported. The airship offers low-cost and all-weather means of surveilling the disputed waters when spy planes cannot deploy.
Chinese aerostats have also been deployed in other key strategic regions such as its border with North Korea and the Taiwan Strait. The aerostats may be combined with ground-based radar, satellites and reconnaissance planes to form a layered network of surveillance tools.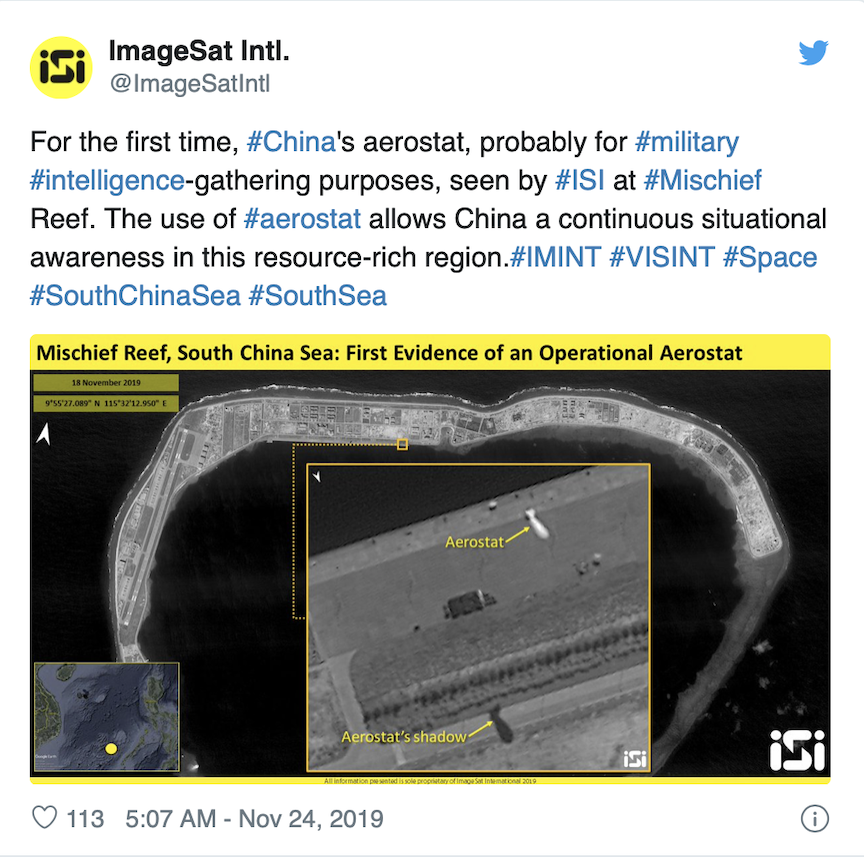 Mischief Reef is on the eastern edge of several artificial islands built by China. Those islands are positioned close to the Spratly archipelago.
Mischief Reef has an area of about 2 square miles and has an airfield with enough landing space for an Airbus A320. The reef also has a lighthouse, military installations and civilian facilities.
China has increased its military presence in the South China Seas in recent years. The Chinese military has deployed radars, missile launchers and warplanes on various islands and archipelagos in the region.
Brunei, Malaysia, the Philippines, Taiwan and Vietnam all have claims to parts of the South China Sea, conflicting with Chinese assertions of sovereignty over the region.
China has tried to assert a claim to the 12-nautical miles around Mischief Reef as territorial waters, however, an international tribunal decided in 2016 the reef does not qualify for the territorial waters because it is submerged at high-tide.
The U.S. has called the claims for territorial waters around Mischief Reef "excessive" and the U.S. Navy has sailed warships passed the reef in "freedom of navigation" exercises.
The U.S. Navy's most recent "freedom of navigation" exercise occurred on Nov. 22 when the USS Gabrielle Giffords (LCS 10) passed within the 12-nautical mile demarcation China has tried to claim for the reef.
In the days prior to the planned operation, Chinese Defense Minister Wei Fenghe urged U.S. Defense Secretary Mark Esper to "stop flexing muscles in the South China Sea and to not provoke and escalate tensions."
The appearance of the Chinese aerostat shortly after the U.S. Navy operation may bolster Chinese efforts to monitor movements around the reef.