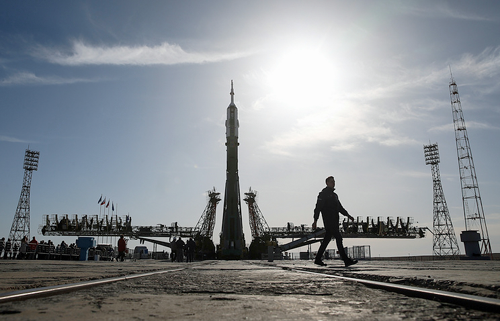 More than 70 smallsats will be orbited by a Soyuz-2.1 carrier rocket together with a Fregat booster under the Kanopus-V-IK space mission, according to Glavcosmos, the Russian operator of launch services, as posted at the Russian TASS news agency's infosite.
The launch is scheduled to occur from the Baikonur space center in Kazakhstan on July 14, Glavcosmos said, adding that, overall, 73 satellites will be launched as part of this mission. The Fregat acceleration unit will deliver the Kanopus-V-IK satellite and associated smallsats into three differing orbits.
The satellites will vary by their format: from 1U cubesat type space vehicles to micro-satellites, weighing up to 120 kilograms, will be launched for foreign customers from the United States, Germany, Japan, Canada and Norway. As part of this mission, Russia will also launch two small MKA-N satellites that were developed by Dauria on order from Russia's State Space Corporation Roscosmos as well as three cubesat satellites designed by Russian technical universities.
Satellites designed by Russian universities are launched under the Roscosmos program for the support and the development of the country's higher educational institutions in the creation of smallsats. The Soyuz-2.1a carrier rocket will launch the satellites Iskra-MAI-85 (the Moscow Aviation Institute), Mayak (the Moscow Polytechnic University) and Ekvador UTE-YuZGU (the Kursk South-Western State University).
Joint electrical trials of smallsats with the Fregat acceleration unit have been successfully held and preparations have been launched to integrate small space vehicles and form the main stage, Glavcosmos added. The record of orbiting the largest number of satellites per launch was set by India when a PSLV carrier rocket delivered 104 small satellites into outer space on February 15.
The space launch operator Glavcosmos was established in 1985 by the USSR Ministry of General Machine-Building. The company engaged in the space rocket industry's foreign economic activity, organized and retained researches and participated in the conversion of defense enterprises to civil output. Today, Glavcosmos participates in the implementation of contracts for the launch of Soyuz rockets from the Kourou spaceport in French Guiana, organizes foreigners' flights to the International Space Station and cooperates with India and China in the space sphere. The Russian government wholly owns Glavcosmos.
Glavcosmos will be distributing images received from Russia's Kanopus-V and Resurs-P Earth's remote sensing satellites for foreign markets.
The family of Russia's Soyuz-2 carrier rockets currently comprises Soyuz-2.1a and Soyuz-2.1b medium-class launchers and also the Soyuz-2.1v light rocket. They can be launched from the Baikonur, Plesetsk, and Vostochny cosmodromes and the Kourou spaceport (South America).