The final phase of payload preparations has been initiated for Arianespace's next heavy-lift Ariane 5 mission, which is set for later this month with the Optus D3 and JCSAT-12 as satellite passengers.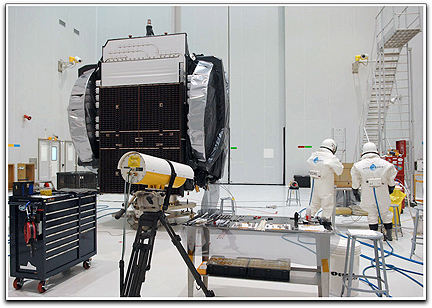 This activity includes
Optus D3
's propellant loading, which occurred in the
S5A
fueling and integration hall of the
Spaceport
's S5 satellite preparation facility. Based on
Orbital Sciences Corporation
's
STAR
™ spacecraft bus,
Optus D3
uses a liquid bi-propellant system for the transfer to its orbital slot after launch, along with a monopropellant hydrazine system for on-orbit station-keeping. Optus D3 carries a payload of 24 active transponders for Ku-band fixed communications and direct television broadcasting services to Australia and New Zealand. To be located at an orbital position of
156 degrees East
, it will provide further market expansion at the same orbital slot as the Optus C1 satellite – which was launched by Ariane 5 in 2003. The three-axis stabilized Optus D3 will have a liftoff mass of 2,500 kg., and is designed for a 15-year mission lifetime at the service of Australia's Optus telecommunications provider. Payload power is 5 kW, with the spacecraft providing its relay services through a pair of 2.3-meter deployable dual-shell gridded shaped reflectors.
Arianespace's upcoming launch also is to loft the
JCSAT-12
spacecraft for Japan's
SKY Perfect JSAT Corporation
, which was produced by
Lockheed Martin Commercial Space Systems
. As a result, this dual-passenger Ariane 5 mission will carry a pair of U.S.-built satellites to be operated by two of Arianespace's Asia-Pacific customers. The Optus D3/JCSAT-12 flight will be Ariane 5's fourth liftoff in 2009, with a total of seven launches planned this year by Arianespace with its workhorse heavy-lift vehicle.