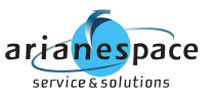 This upcoming launch by Arianespace will find the Ariane 5 pushing 6,575 kg from the pad to orbit.
In preparation for this event, payload preparations for Arianespace's next Ariane 5 dual-passenger mission are moving into full pace—the second satellite, Intelsat 36, arrived today in French Guiana and joins Intelsat 33e, which arrived earlier this month. The newly-delivered spacecraft was flown to South America aboard an Antonov An-124 cargo jetliner, which landed this morning at Félix Eboué Airport near the French Guiana capital city of Cayenne. After the unloading process, the protective container with Intelsat 36 was readied for transportation by road to the Spaceport, located some 65 kilometers away.
Built by SSL (Space Systems Loral), Intelsat 36 will enhance international satellite operator Intelsat's premier DTH neighborhood in Africa and will provide coverage from an orbital position of 68.5 degrees East—this satellite's liftoff mass is estimated to be 3,250 kg.
Accompanying Intelsat 36 on the August 24 launch to geostationary transfer orbit is another satellite for Intelsat's fleet, Intelsat 33e, which has a liftoff mass estimated at 6,575 kg. Produced by Boeing Space Systems, Intelsat 33e is the second Intelsat EpicNG-series spacecraft and integrates one of the most advanced commercially-available digital payloads in the world and will operate from an orbital position of 60 degrees East following its launch.
Ariane 5's mission with Intelsat 33e and Intelsat 36 is designated VA232 in Arianespace's numbering system for the company's family of launchers, which also includes the medium-lift Soyuz and light-lift Vega.