[SatNews] Precise and reliable navigation and flight approach systems are vital to ensuring international aviation safety.
Rohde & Schwarz (R&S) today announced that Moog has selected the R&S EDS300 DME/pulse analyzer as a standard test solution for R&D, manufacturing and field deployment of their MM-7000 series navigation aids. The Moog MM-7000 is a technologically advanced full service TACAN and DME Beacon-Transponder that is being widely sold into the civil and military aircraft navigation market.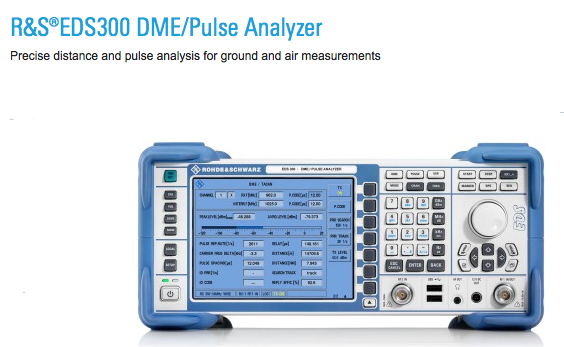 Precise and reliable navigation and flight approach systems are vital to ensuring international aviation safety. Moog's MM-7000 platform represents the fourth generation DME & TACAN System and is designed to maximize performance and reliability. It features a highly integrated design for fixed base, shipboard, mobile and man-portable applications with a common set of modules.
The R&S EDS300 is a standalone, remote-controlled level and modulation analyzer that can be deployed for the continuous monitoring, recording and analysis of pulsed terrestrial navigation signals. The R&S EDS300 TACAN software includes measurement functions for completely analyzing signals from TACAN stations, making it ideal for commissioning and service tasks. The compact R&S EDS300 is tailor-made for carrying out such tasks, offering extremely high sensitivity and measurement accuracy. Learn more here.
"The R&S EDS300 has the performance and sensitivity we need in the lab and manufacturing environment, plus it offers a robust and compact design for field testing the air interface of the MM-7000," said Achim Soelter, Moog Director of Engineering. "The R&S EDS300 is an integrated test solution that enables Moog to have a standardized test process for verifying the performance of our TACAN and DME products at all stages."

Moog NASS, a business unit within Moog Inc., has been supplying advanced navigation and surveillance systems to civil and military customers since the 1960s. Its product offering includes fixed and mobile TACANs, DMEs and DF systems which are currently operating in more than 100 countries around the globe providing for safe and efficient air travel. Moog also provides full service maintenance services to its major customers.

The Rohde & Schwarz electronics group, supplier of solutions in the fields of test and measurement, broadcasting, secure communications, and radiomonitoring and radiolocation, was founded 80 years ago. The company has an extensive sales network and is present in more than 70 countries with approximately 9,300 employees and is headquartered in Munich, Germany.