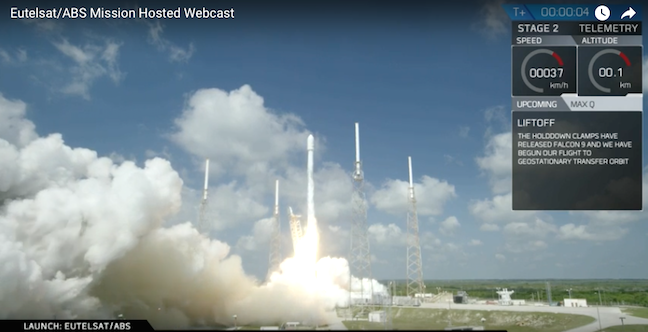 Another successful launch for SpaceX of dual satellites, EUTELSAT 117 West B and ABS-2A, however the Falcon 9 was unsuccessful in its attempt to land on the "Of Course I Still Love You" droneship. The first-stage was subject to extreme velocities and re-entry heating, making a successful landing difficult, or in this case, impossible.
The company warned prior to the launch that a landing would be challenging because of the mission's high orbit delivery, which could create high velocity and reentry heat, making it harder to stick a landing.
Afterward, a SpaceX employee announced on the company's webcast that the vehicle was indeed lost. "We can say that Falcon 9 was lost in this attempt," said Kate Tice, a process improvement engineer for SpaceX. Later CEO Elon Musk confirmed that the Falcon 9 suffered an RUD, or a rapid unscheduled disassembly. That's "Musk speak" for an explosion.
Later, Musk said that the problem had to do with low thrust in the one of the rocket's three main engines, and that all the engines need to be operating at full capacity to handle this type of landing. He noted that the company is already working on upgrades to the Falcon 9 so that it can handle this type of "thrust shortfall" in the future
Elon Musk, the company's CEO, tweeted during the mission that the booster rocket had a "rapid unscheduled disassembly," or RUD, which typically means the rocket tipped over or crashed into the ship.
"Maybe hardest impact to date. Drone ship still ok," Musk shared on his social media account.
SpaceX's Falcon 9 rocket delivered the two commercial communications satellites to Geostationary Transfer Orbits (GTO) a part of near space that is ideal for communication and meteorological satellites. The two satellites are operated respectively by Eutelsat and ABS, two companies that provide global communications services to a variety of users.
Future events include the launch of a cargo resupply mission to the International Space Station for NASA on July 16th. After that launch, SpaceX will try to land the Falcon 9 on solid ground at Cape Canaveral, Florida—something it hasn't attempted since its first rocket landing in December. And after that, SpaceX has another satellite launch slated for August.
Payload
EUTELSAT 117 West B is the second new-generation electric satellite in Eutelsat Americas' fleet, and will be co-located with EUTELSAT 117 West A. EUTELSAT 117 WEST B will also provide video services including DTH and DTT for the region.
The EUTELSAT 117 West B satellite will feature four regional beams in Ku-band with exceptional coverage of each territory, and will be the second new-generation electric satellite in Eutelsat Americas' fleet.
ABS-2A will be the second of the pair of the innovative all-electric propulsion satellites. The payload for this mission is two communications satellites, both built by Boeing Satellite Systems. They each have 48 transponders and 4 dedicated Ku-band transmitters.
ABS-2A will serve Africa, MENA, Russia, South Asia and South East Asia regions with video services.