[SatNews] As the debate continues to heat up between MILSATCOM and COMSATCOM, NSR's Government and Military Satellite Communications, 12th Edition report explores the market opportunities available to the satellite industry. With over a decade of insights and analysis, the longest-running report on the government and military satellite communications market provides an in-depth view at the drivers, regional trends, and capacity demand through 2024.
On the footsteps of wider introduction of HTS-based offerings into the overall satellite industry, and an on-going 'reset' of U.S. Government SATCOM spending, the report provides a roadmap for future capacity trends, regional developments, shifts in vertical markets, and the on-going balance between commercial and proprietary capacity. The report provides a bottom-up approach to the market, giving a clear view on how to navigate this "new-normal" of government SATCOM spending.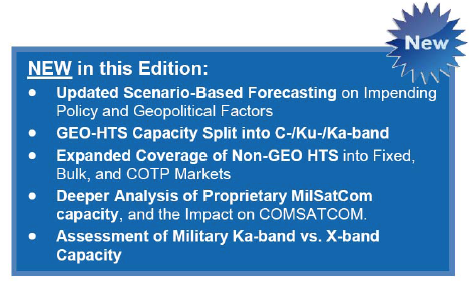 NSR's Government and Military Satellite Communications, 12th Edition continues to provide detailed and event-driven scenarios to provide a bottom-line view on the major 'what-ifs' driving the market—more proprietary capacity, emerging regional conflicts, procurement reform, and other factors—providing actionable intelligence to current or prospective players in the government SATCOM market.
Key Questions
Current state of Government SATCOM Programs, including an update on the "COMSAT vs. GOVSAT" debate for communication services, acquisition reform update, and a run-down of major national satellite programs.
Bulk Leasing or Managed Services? Are "Managed Services" more hype than fact?
Mil-Ka or X-band? Which market provides a better opportunity for commercial operators—Is it an either/or question?
Are UAS becoming the 'tool of choice' for U.S. involvement overseas, and is there a market beyond U.S./NATO for SATCOM-equipped UAS platforms?
Which regions are emerging as SATCOM hot-spots?