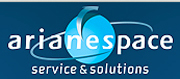 Arianespace has delivered another Ariane 5 to the launch zone at Europe's Spaceport in French Guiana, positioning this workhorse vehicle for its June 17 liftoff with a dual-satellite payload of EchoStar XVIII and BRIsat.
Riding atop a mobile launch table, Ariane 5 was transferred to the ELA-3 launch zone from the Spaceport's Final Assembly Building, where its two passengers had been integrated as part of pre-flight preparations. With the rollout completed, the final countdown will begin for a Friday liftoff at the start of a 1 hour, 10 minute launch window that opens at 5:30 p.m. local time in French Guiana.
For this 86th flight of an Ariane 5 to date, the payload lift performance to geostationary transfer orbit is approximately 10,730 kg, which includes a combined total of some 9,840 kg for EchoStar XVIII and BRIsat, plus the launch vehicle's dual-passenger dispenser system and satellite integration hardware.
EchoStar XVIII—which was produced by SSL (Space Systems Loral) for DISH Network L.L.C.—is riding in the upper position of Ariane 5's payload arrangement and will be released first in the flight sequence at 29 minutes following the liftoff.
BRIsat also was also built by SSL and will be deployed from Ariane 5's lower passenger position, 42 minutes into the flight, wich will complete the mission. Once in orbit, the satellite is to be operated by PT. Bank Rakyat Indonesia (Persero) Tbk. (BRI).