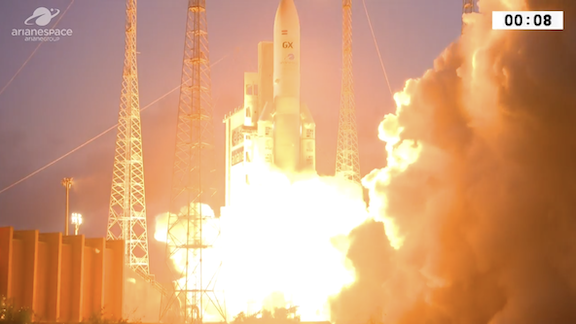 For its fourth and final mission of the year, Ariane 5 placed two communications satellites in geostationary transfer orbit (GTO), lifting off from the European spaceport in Kourou (French Guiana): TIBA-1 and Inmarsat GX5. The TIBA-1, for Thales Alenia Space and Airbus Defence and Space on behalf of the Government of Egypt; and GX5 for the operator Inmarsat.

The launch took place on Tuesday, November 26, 2019 at 18:23 p.m. (local time) from the Guiana Space Center (CSG), Europe's Spaceport in Kourou, French Guiana (South America).

With this latest success, Arianespace once again proves its ability to support all satellite systems, even the most innovative, for both institutional and commercial customers.

Today's launch also marks the 250th Ariane mission, a series that started with the first launch on December 24, 1979.

Following the launch, Arianespace Chief Executive Officer Stéphane Israël said: "Arianespace is very proud to have launched the 250th Ariane on our eighth mission of the year, for Thales Alenia Space and Airbus Defence and Space on behalf of the Government of Egypt, and for a leading operator, Inmarsat, which has entrusted Ariane for 10 of its satellite launches.

"Over the past 40 years, the Ariane family has guaranteed both autonomous access to space for Europe and record availability for customers from around the world. Therefore, Arianespace fulfills its fundamental mission: to put space at the service of a better life on Earth. And the Ariane story will continue next year with the advent of Ariane 6, that perfectly addresses the evolving needs of our customers."
The total performance required of the launcher was 10,479 kg, with the two satellites accounting for 9,630 kg. The payloads were injected into an optimized orbit inclined 5 degrees to the equator.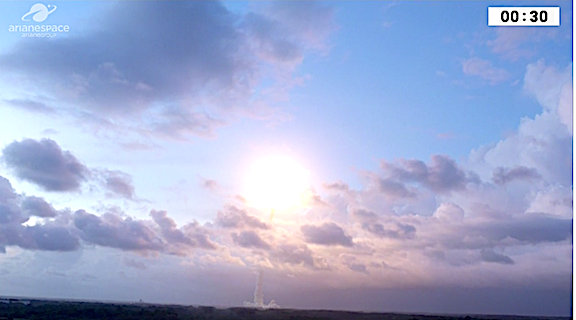 "250 Ariane launches in 40 years,106 Ariane 5 launches between 1996 and 2019, with 11 more by 2022 As each launch presents its own unique challenge, Ariane has constantly increased its efficiency, power, payload capacity and competitiveness in order to meet the needs of the world's space market and contribute to the European space adventure. It is our firm intention to take this indisputable success story even further, and the adventure continues with Ariane 6, which will make its maiden flight next year," said André-Hubert Roussel, CEO of ArianeGroup.
"It is therefore with great emotion that, on behalf of everyone at ArianeGroup, I pay tribute to all the engineers and technicians whose talents and dedication have made Ariane such a success, as well as to Arianespace and all our industrial partners. Once again our thanks also go to the teams at the European Space Agency (ESA) and the French space agency (CNES) for their continued confidence and support."
ArianeGroup is the industrial lead contractor for the development and operation of Ariane 5 and Ariane 6 launchers. The company coordinates an industrial network of more than 600 companies (including 350 SMEs) in 13 European countries. ArianeGroup oversees the entire industrial supply chain, from performance optimization and the corresponding studies associated with Ariane 5 to production, from the supply of mission-specific data and software to the marketing of the launcher by Arianespace. This chain includes equipment and structures, engine manufacturing, integration of the various stages and launcher integration in French Guiana.
Ariane Flight 250 in figures:
106th launch of an Ariane 5
81st consecutive nominal ignition of the Vulcain® 2 engine
106th consecutive nominal ignition of the EAP solid propellant boosters
146th consecutive nominal ignition of the HM7B engine
Arianespace at the service of telecommunications in Egypt
TIBA-1 is a civil and government telecommunications satellite for Egypt developed by Thales Alenia Space and Airbus Defense and Space as co-prime contractors. Thales Alenia Space designed and built the communications payload, which will provide broadband communications in Ka-band is the consortium's lead, and Airbus Defense and Space is the direct Arianespace customer for this mission. TIBA-1 will be owned and operated by the government of Egypt. TIBA-1 is the 160th satellite launch by Arianespace for Thales Alenia Space.

TIBA-1 is the fourth satellite to be launched by Arianespace for Egypt, with Arianespace having deployed the three satellites for the operator Nilesat between 1998 and 2010. TIBA-1 also is the 22nd satellite launched by Arianespace for a mission in the cooperation between Airbus Defense and Space and Thales Alenia Space. It will be deployed by Arianespace into geostationary transfer orbit (GTO), subsequently transitioning to its operational orbital slot position at 35.5 degrees East.
Airbus Defence and Space is Arianespace's direct customer for this mission, continuing a strong cooperation between the two companies that extends back to Arianespace's creation in 1980.
TIBA-1 will be the 127th Airbus satellite launched by Arianespace, as well as the 113th main passenger on a launcher from the Arianespace family. There currently is a total of 22 Airbus satellites in Arianespace's order book.
GX5: Arianespace continues a long-standing partnership with Inmarsat
GX5 marks the 10th time since 1981 that Inmarsat has chosen Arianespace, reflecting the strength of this long-standing partnership.
Built by Thales Alenia Space for Inmarsat it will provide mobile services across the Middle East, Europe and the Indian sub-continent.
As the most advanced satellite in the GX constellation, GX5 will deliver greater capacity than the entire existing GX fleet combined (GX1-GX4). A very high throughput satellite (VHTS), GX5 will address the rapid growth in customer demand for GX services in Europe and the Middle East, particularly for satellite Ka-band Wi-Fi services from the Global Xpress (GX) fleet.
Located in a geostationary orbit at 11 degrees East, GX5 will deliver greater capacity than the entire existing GX fleet (GX1-GX4) combined and will support the rapid growth in customer demand for GX services in Europe and the Middle East, particularly for aviation passenger Wi-Fi and commercial maritime services.
It is equipped with 72 Ka-band fixed spot beams and four steerable beams to direct additional capacity where it is needed. GX5 is the start of an unprecedented enhancement in the overall capacity and capabilities of the GX network with a further seven advanced payloads scheduled to launch over the next four years.
This is the tenth time that Inmarsat has chosen Arianespace's launch services, demonstrating a well-established trust – with the two companies' relationship dating back to 1981. The mission with Inmarsat GX5 comes two years after Arianespace successfully launched the "condosat" Hellas Sat 3/Inmarsat S-EAN with an Ariane 5.
The Inmarsat GX5 satellite will be the 161st satellite manufactured by Thales Alenia Space to be launched by Arianespace.
Six additional Thales Alenia Space satellites are included in Arianespace's order book.
Arianespace's November 22 mission will mark the eighth flight in 2019 by its launch vehicle family — which consists of the heavy-lift Ariane 5, medium-size Soyuz and lightweight Vega. It will be the fourth this year using Ariane 5.

Ariane: 40 years of technical success to make life better on Earth
Today's mission, VA250, marks a symbolic milestone in the history of Ariane, since it was the 250th Ariane launch since December 24, 1979 – when the cornerstone Ariane 1 version performed its maiden flight.

Just a few weeks away from celebrating its 40th anniversary, Ariane has built up an impressive record – a source of pride for all of Europe:
In 40 years (1979-2019), Ariane will have launched 451 satellites, for a total weight injected into orbit of nearly 1,302 metric tons.
From Ariane 1 to Ariane 5, payload capacity into geostationary transfer orbit (GTO) has increased 10-fold, (from 1,073 kg. in 1979 for the maiden Flight L01 mission, to 10,495 kg. in 2019 for Flight VA250).
124 customers have chosen Ariane to deploy their missions.
31 different manufacturers have built the satellites carried by Ariane launchers.
During these past 40 years, Ariane has completed many iconic missions, such as launching the Galileo satellites, orbiting ATVs for servicing the International Space Station, launching the Herschel & Planck telescopes, and lofting the Rosetta spacecraft.

Arianespace looks forward to further milestones as well. For instance, NASA's James Webb Space Telescope will be launched by an Ariane 5 in 2021, while the JUICE mission to Jupiter's moons will be launched from 2022 by Ariane.

After the completion of Ariane 5 operations in 2022, Ariane 6 will reach its full operational capacity in 2023.