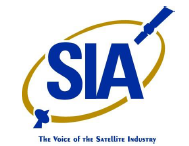 [Satnews] Satellite Industry Association (SIA) President Tom Stroup announces the following statement upon the adoption by the Federal Communications Commission (FCC) of a Notice of Proposed Rulemaking regarding the future deployment of "5G" wireless services in spectrum bands above 24 GHz, "The future deployment of 5G provides an opportunity for consumers to continue to enjoy the unparalleled benefits of satellite technology. The satellite industry will play an essential role in the 5G ecosystem by off-loading traffic from congested terrestrial wireless networks, providing reliable and resilient backhaul services, and providing mobile broadband to vehicles and airplanes. We look forward to working with the FCC as it considers how to provide spectrum access to all technologies in a manner that does not constrain the deployment of the satellite services that are currently operating or planned in the future."
SIA is a U.S.-based trade association providing worldwide representation of the leading satellite operators, service providers, manufacturers, launch services providers, and ground equipment suppliers. Since its creation almost twenty years ago, SIA has advocated for the unified voice of the U.S. satellite industry on policy, regulatory, and legislative issues affecting the satellite business.
SIA Executive Members include:
The Boeing Company; The DIRECTV Group; EchoStar Corporation; Intelsat S.A.; Iridium Communications Inc.; Kratos Defense & Security Solutions; LightSquared; Lockheed Martin Corporation; Northrop Grumman Corporation; SES Americom, Inc.; SSL, and ViaSat, Inc. SIA
Associate Members include:
ABS US Corp; Airbus DS SatCom Government, Inc.; Artel, LLC; Cisco; Comtech EF Data Corp.; DRS Technologies, Inc.; Eutelsat America Corp.; Global Eagle Entertainment Inc.; Glowlink Communications Technology, Inc.; iDirect Government Technologies; Inmarsat, Inc.; Kymeta Corporation; Marshall Communications Corporation.; MTN Government; O3b Limited; OneWeb; Orbital ATK; Panasonic Avionics Corporation; TeleCommunication Systems, Inc.; Telesat Canada; TrustComm, Inc.; Ultisat, Inc.; Vencore Inc.; and XTAR, LLC.