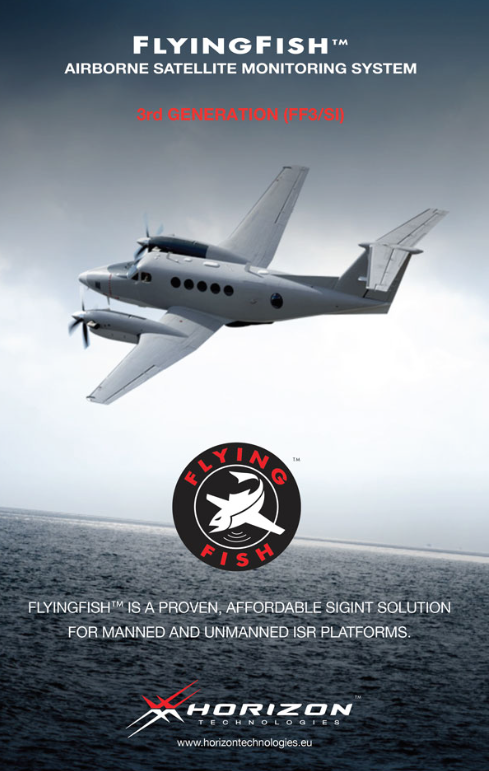 These flying fish are worth more than you might think but that's because they are Horizon Technologies' FlyingFish™, which were included in a contract with a European Original Equipment Manufacturer (OEM).

This dates back to December of 2018, Horizon Technologies was awarded a major contract from a leading European OEM for its FlyingFish™ airborne SIGINT system. The multi-million-dollar program includes future options totaling over £15 Million and is for a large number of fixed and rotary-wing aircraft for a NATO country. The FlyingFish™ configuration chosen will be our tri-band solution allowing for the host government to legally and simultaneously monitor the Thuraya, Isat and Iridium Sat Phone networks.

John Beckner, Founder and CEO of Horizon Technologies said that more and more countries are installing airborne Sat Phone SIGINT and FlyingFish™ on their ISR aircraft. FlyingFish™ remains a key tool in the fight against piracy, refugee rescue and counter terrorism. FlyingFish™is the only exportable and fully airborne-qualified Sat Phone SIGINT system on the market today.
The 10 Year Anniversary of EUNAVFOR's Operational ATALANTA was on December 20, 2018. Joining the fight against East African piracy five years ago with airborne operations on numerous multi-national airborne platforms, Horizon Technologies' FlyingFish™ became one of the key sensors in drastically reducing East African piracy. ­
While operational details are classified, the use of the passive FlyingFish™ system has had a dramatic effect in disrupting the pirates' communications, forcing a change in their tactics and locating and targeting them on the high seas. Beckner notes "Horizon Technologies is proud of the pivotal role it has played and is still playing today in Operation ATALANTA."

Horizon Technologies 2018 was a successful year in which they:
Had a 40 percent increase in sales compared to 2017
Added two new major Aerospace OEM customers (US and EU), and one major new North African end-user
Installed systems in two new manned-aircraft platforms/types
Were awarded a £500,000 Innovate UK Grant for use by new subsidiary Horizon Space Technologies to develop the ground station for upcoming commercial space-based SIGINT data product: AMBER
Started the first airborne testing of transformational Xtender SIGINT Technology on a rotary-wing UAV