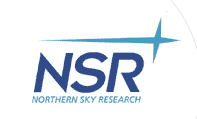 [SatNews] Diverse options are a real luxury in the world of rocket launches, and today there are exciting choices to be made, unheard of a decade ago.
Attendees of last month's Space Symposium listened attentively for two major launch announcements: details of United Launch Alliance's next generation Vulcan rocket, and Rocket Lab Ltd's innovative Rutherford engine design. Positioned at opposite ends of the mass capability spectrum, simultaneous interest in these vastly different launch systems highlights the enthusiasm in today's satellite market and demand for diverse options. Launch industry evolution is accelerating towards what will be a distinctly new landscape by the next decade, but how might these changes impact the commercial and government operators dependent on such services?
Full specifications on Vulcan are forthcoming, but we know it will be modular with dual first stage engines that provide greater lift capacity than today's Atlas V. In the mid-2020s a new upper stage is expected to increase both total capacity and flexibility, as is implementation of a first stage engine reuse system. Vulcan's design is a clear indication that ULA is prepared to make a play for the commercial market they have otherwise been unable to attract—a necessity in the face of SpaceX's incursion into the lucrative U.S. Government market.
Rocket Lab Ltd plans to leverage 3D printing and a battery powered turbopump in its engine to address two factors: launch rate and cost. In order to launch at the targeted once per week rate, the engines must be rapidly built (10 are required per vehicle) but sufficiently low cost to compete on a per kilogram level with existing rideshare vehicles.
These announcements come in the face of ongoing capability evolution by nearly all other players in the launch services market. As indicated in NSR's Satellite Manufacturing and Launch Services, 5th Edition report, both GEO and LEO launch markets are approaching a transitional period. SpaceX, Airbus Safran Launchers, and MHI, as well as the governments of China, India, Russia, and the U.S., are preparing new vehicle designs. Sea Launch is the only GEO launch service provider not currently in a state of designing or testing a next generation rocket, though the most recent public interview with Sea Launch CEO Sergei Gugkaev hinted at an on-going trade-off analysis of launch vehicle and home port options that would be finalized later this year.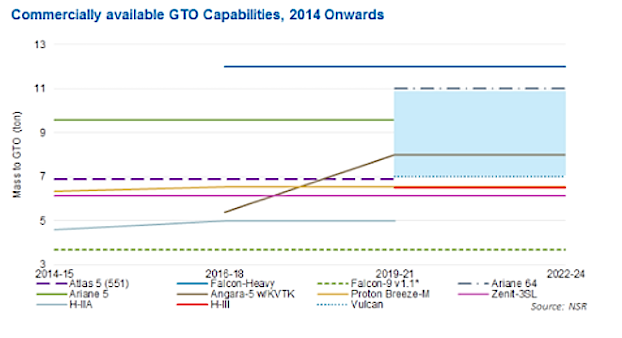 On the LEO side, low cost choices Dnepr and Rokot are nearing the limit of operations while the Athena is slated to return to market and the new Antares and Epsilon will become available. Solutions to service the sub-500 kg LEO range are in development as well, hoping to win market share from competitors currently launching small satellites as rideshares.
What Do These Changes Signify for Operators?
Cheaper Prices per Vehicle: Spurred by the low pricing of the Falcon 9 and Falcon Heavy, the Ariane 6, H-III, and Vulcan were designed to maximize manufacturing efficiency and provide a 30-40 percent cost reduction. However, given the increased per-vehicle capacity, these savings will not always translate into a $/kg benefit if satellite size or co-passengers do not optimize the vehicle's capacity.
Higher Insurance Rates: New vehicles lacking a successful track record inherently garner higher insurance rates that gradually decline, but this aspect will be exacerbated for systems that engage in novel component reuse (Falcon 9, Vulcan, Firefly Alpha) until these processes are proven.
Faster Ordering: Even as the launch market has become more competitive for launch service providers, it is still designed on a model that makes access to timely launch a challenge for operators—in some cases requiring launch services to be procured for unidentified or yet to be purchased satellites in order to secure slots. ULA promises to simplify the launch procurement process with new initiatives Fast Buy and Ready Launch, while SpaceX plans to increase launch rate and thus availability via a commercial-only launch range; if these efforts prove effective, other launch service providers will be pushed to expedite their own procurement to launch cycle to remain competitive.
More Freedom on Satellite Design: Growth in the market for very large satellites (>6.2 tons) has been hampered by limited launch options, but the presence of more than one player in this payload class will reduce the risks associated with tying project success to a single launch service provider. Likewise, additional and more tailor-made launch options for small satellites will facilitate market diversification.
Bottom Line
Current vehicle designs and plans of launch service providers signal change to come in the GEO and LEO launch markets. More on-demand launch services will alleviate project timeline rigidity and cash flow. Similarly, lower prices, even if somewhat dampened by near term insurance hikes, will help close business cases for otherwise challenging projects. Alongside growth in competition, customers will have a greater variety of capabilities to choose from to strategically leverage the right satellite for their end-user markets. Yet while this new vehicle landscape has potential to help the satellite industry continue to flourish and diversify, the true benefits for operators will remain uncertain until the new vehicles reach market and ramp up launch rates. Whether this can happen on cost, on schedule, and on capability remains a central question that will determine just how positive change can be.