[SatNews] Sevis Systems, Inc., developer of intelligent backhaul optimization technology, has successfully validated its highly effective and flexible platform for backhaul services on the KA-SAT satellite operated by Eutelsat Communications (Euronext Paris: ETL). The new solution offers a more affordable and optimized satellite backhaul service to specialized satellite service providers delivering end-to-end backhaul bandwidth to Mobile Network Operators (MNOs). Sevis and Eutelsat are now offering the solution across KA-SAT's entire footprint of Europe, North Africa and the Middle East.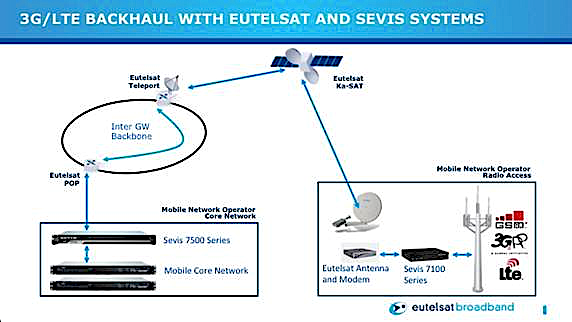 These new services are ideal for delivering 3G and LTE to remote or rural locations without access to terrestrial backhaul. The ability for KA-SAT to provide backhaul connectivity between a core network and the access infrastructure at a remote site is suitable for mobile operators and Professional Mobile Radio (PMR) for emergency services and civil defense. The Sevis integrated solution also allows service providers to develop and deliver innovative backhaul services defined by software. For example, TCP acceleration, data traffic offload and overflow can leverage Sevis' multi-layer optimization algorithms to efficiently route traffic and integrate satellite and terrestrial backhaul.
With an advanced feature set and based on Sevis' scalable 7000-Series hardware platform designed for IP high throughput backhaul environments, Eutelsat's partners and users can now leverage Sevis' industry-leading optimization technology delivering new levels of savings, scalability and flexibility. In conjunction with Eutelsat's KA-SAT high throughput network, satellite service providers and MNOs can realize high ROI savings in 3G backhaul operating costs while establishing a seamless migration path to LTE backhaul, traffic offload and overflow.
Tim Peyla, VP Business Development at Sevis Systems said, "Our highly scalable optimiszers, purposely built for High Throughput Satellite, together with our software-defined service features, enable service providers to efficiently deliver current and future backhaul services. When combined with the power and coverage of Eutelsat's KA-SAT, the result is a backhaul solution that achieves the lowest possible cost to deliver carrier-class backhaul services over satellite."
"Sevis Systems has a long and rich history of developing and marketing optimized telecom solutions, both hardware and software, to tier one telecom operators worldwide," said Philippe Llau, B2B Commercial Director at Eutelsat Broadband. "This latest solution will dramatically decrease the total cost of ownership for satellite service providers and mobile operators and further extends the scope of the professional communication services that can be delivered over KA-SAT."