[SatNews] From the snow covered mountains in Slovenia to the lush desert of Israel, SatNews' globe-trotting publisher is on the move...again.
Silvano Payne, SatNews Publisher was given a warm welcome on his first-time visit to Israel with his hosts at Gilat Satellite Networks Ltd (NASDAQ, TASE: GILT). The huge facility in Israel provides products and services for satellite-based broadband communications.
Erez Antebi, CEO; Yaniv Reinhold, CFO; Gai Berkovich, COO and many more executives oversee the numerous Gilat locations and products.
Erez Antebi serves as Gilat's Chief Executive Officer, and has been with Gilat for over 17 years. Erez has been leading Gilat entry to the new market of spot-beam satellites and Ka Band VSAT technology.

Previously Mr. Antebi served as Gilat's Chief Executive Officer for Gilat Network Systems (GNS) and Spacenet Rural Communications business units. Mr. Antebi previously served as the CEO of Clariton Ltd, Gilat s Chief Operating Officer (COO) and other executive positions in Gilat Satellite Networks LTD. Mr. Antebi holds an MSc and a BSc, Summa Cum Laude, in Electrical Engineering from the Technion, Israel Institute of Technology, Haifa.
As Gilat's guest Payne was informed of the company's development and marketing of a wide range of high-performance satellite ground segment equipment and VSATs, with an increasing focus on the consumer and Ka-band market. Their products are found in both the commercial and military environments resulting in a company with facilities in;
Melbourne, Australia
Andean, Bogotá
Rio de Janeiro, Brazil
Sofia, Bulgaria
Beijing, CHina
Bogotá, Columbia
Amsterdam, the Netherlands
Noida, India
Jakarta, Indonesia
Petah Tikva, Israel
Almaty, Kazakhstan
Chapultepec, Mexico
Chisinau, Moldova
Lima, Peru
Moscow, Russia
Centurion, South Africa
Bankok, Thailand
Virginia, United States
Wavestream: California, United States
Singapore
There have been news-making partnerships such as their relationship with Inmarsat, that furthers market opportunities in which Gilat's technical offering is best suited to driving the uptake of Global Xpress by end-users requiring fixed VSAT broadband connectivity. Under the agreement, Gilat provides a suite of fixed GX land terminals and related network management resources, which will be made available to VARs, enabling them to address the further prospects identified. Inmarsat's fleet of three GX satellites (the Inmarsat-5 constellation) is on schedule to achieve full global coverage by the close of 2014. The game-changing Ka-band network will offer unprecedented, globally available, high-speed broadband data services.
Rupert Pearce, CEO, of Inmarsat, said, "Gilat's unique solution was customized especially for these new service opportunities and draws on their broad experience in fulfilling the unique requirements of land enterprise customers."
Additionally:
SES Broadband Services and Gilat Satellite Networks Ltd. (Nasdaq:GILT) (TASE:GILT) have announced the expansion of consumer Ka-band services to Germany and Italy over SES's ASTRA 2E satellite.
SBBS's ISPs have recently started offering the satellite broadband service on Gilat's SkyEdge II-c platform, providing up to 20 Mbit/s and Voice-over-IP services to private households and small businesses across Germany and Italy over SES's ASTRA 2E satellite. The ASTRA 2E satellite, which entered into the commercial service in the orbital arc of 28.2 degrees East on February 1, 2014, enables the delivery of next generation broadcast and broadband services in Europe, the Middle East and Africa.
"We are continuously enhancing our service offerings by providing satellite Internet services across Europe at speeds comparable to standard terrestrial and terrestrial wireless networks such as DSL, cable, and LTE technologies," said Patrick Biewer, Managing Director of SBBS. "Gilat's advanced VSAT technology, featuring high data rates and cost effective terminal technology, allows us to further optimize our service proposition for the end-consumer market and to increase the competitive advantage of our satellite-based Internet service Astra Connect."
In addition, Gilat enables mobile SOTM (Satellite-on-the-Move) solutions providing low-profile antennas, next generation solid-state power amplifiers and modems. Gilat also provides managed network and satellite-based services for rural telephony and Internet access via its subsidiaries in the United States, Peru and Colombia.
With over 25 years of experience, and over a million products shipped to more than 85 countries, Gilat has provided enterprises, service providers and operators with satellite-based connectivity solutions, including cellular backhaul, banking, retail, e-government and rural communication networks.
Gilat's Commercial Products Include:
RaySat Antenna
Satellite TV Antennas
On-the-Move Antennas
Wavestream BUCsr
Ku-Band
Ka-Band
C-Band
Redundancy Controller
VSATs and Modems
SkyEdge II
SkyEdge
SkyEdge II-c
GLT-1000

Gilat also enables leading defense, public security and news organizations to implement advanced, on-the-move tactical communications on board their land, air and sea fleets using Gilat's high-performance SOTM solutions.
Gilat Satellite Networks Ltd. announced last month the availability of BlackRay 300, BlackRay P60 and BlackRay Marine 250, all of which are part of its BlackRay suite of terminals specifically designed for operations on unmanned platforms.
The BlackRay terminals seamlessly integrate Gilat's RaySat low-profile antennas, Gilat's MLT-1000 modem system and Gilat Wavestream BUCs to form compact and fully integrated terminals. The antennas also include enhanced accuracy satellite tracking mechanism, providing short initial acquisition and instantaneous re-acquisition time. BlackRay features an efficient SWAP design which is especially suited for compact UAS and USV platforms. Its innovative low-profile design provides better safety, smaller radar cross-section and improved maneuverability for military platforms. The suite of broadband Beyond Line Of Site (BLOS) two-way communications solutions includes the following models for Unmanned Air Systems (UASs):
Gilat's Defense Products Include: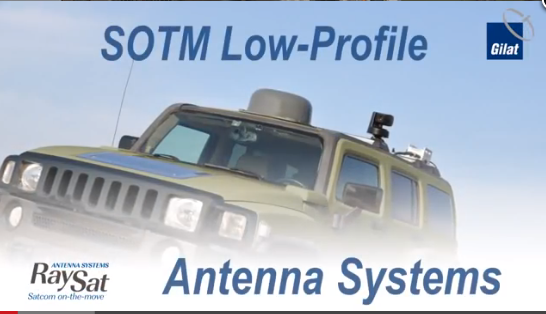 RaySat Antennas
Wavestream BUCs
Ku-Band
Ka-Band
C-Band
X-Band
Redundancy Controller
VSATs and Modems
GLT-1000
MLT-1000
SatTrooper


Silvano enjoyed his visit and the hospitality of everyone at Gilat. He is now winging his way to another destination.