[Satnews] The World Teleport Association (WTA) today published its annual rankings for the Top Teleport Operators of 2015. The annual rankings of companies by revenue and revenue growth are compiled by surveying teleport operators around the world as well as referencing the published results of publicly-held companies.

"The teleport sector continues to grow and to integrate more thoroughly into the world's satellite, fiber and wireless networks," said WTA executive director Robert Bell. "The top seven companies in our Fast 20 list reported double-digit growth over the prior year. Seven of the Global Top 20 this year are independent teleport operators, which provide their customers with a technology-agnostic platform for value delivery across all transmission paths. This is an industry that is truly ready for the future."

This year, the survey found that 62% of independent operators in the sample reported year-over-year revenue growth, while 38% reported revenue decline. The average growth rate for growing operators was a robust 25%, while the average year-over-year decline was -7%.

The Top Operators questionnaire also asks independent teleport operators what percentage of their revenue goes to pay for satellite capacity, which can be one of the biggest expenses on the P&L. As in previous years, operators reported a wide range of percentages. Fifty-five percent of the operators reported spending less than 40% of their revenues on satellite capacity. About 25% of the sample group spent between 40% and 60% of revenues on capacity. The highest reported spending equaled 76% of revenue, while the lowest devoted only 12% of revenue. The average teleport operator in the group spent 41% of revenues on space-based capacity. The chart below shows the distribution of responses. The vertical axis is percentage of revenue spent on capacity, while the horizontal axis is the annual revenues of the teleport operator in millions of US dollars. No clear pattern emerges: The two largest companies by revenue in the sample group devote very different percentages of revenue to capacity. Rather than company size, spending on capacity seems to be determined by the business model of the operator.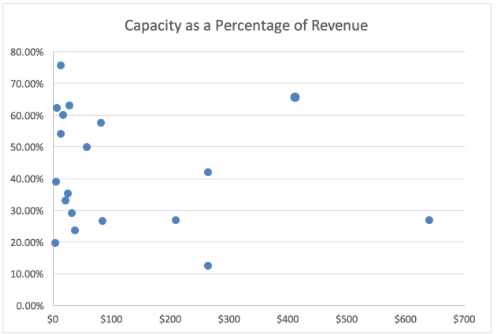 In May 2016, WTA will publish its annual Inside the Top Operators report that will provide a more detailed analysis of survey results.

The Independent Top Twenty
The Independent Top Twenty ranks teleport operators based on revenue from all sources. The list focuses on the independent operators at the core of the business, excluding companies whose primary business is ownership and operation of a satellite fleet or terrestrial network. In order from largest to smallest, the Independent Top Twenty of 2015 are:

1. Harris CapRock (USA)
2. GlobeCast (France)
3. EMC (Emerging Markets Communications) (USA)
4. Encompass Digital Media (USA)
5. Arqiva Broadcast & Media (UK)
6. Telespazio S.p.A. (Italy)
7. Globecomm (Services revenue) (USA)
8. RR Media (Israel)
9. SpeedCast (China)
10. du (UAE)
11. Essel Shyam Communications (India)
12. Jordan Media City (Jordan)
13. Signalhorn (Germany)
14. Axesat (Columbia)
15. Onlime (Germany)
16. Elara Comunicaciones SA (Mexico)
17. NewCom International (USA)
18. STN (Slovenia)
19. CETel (Germany)
20. Global Data Systems (USA)

The Global Top Twenty
The Global Top Twenty ranks companies based on revenues from all customized communications sources and includes operators of teleports and satellite fleets. In order from largest to smallest, the Global Top Twenty of 2015 are:

1. Intelsat S.A. (Luxembourg)
2. SES (Luxembourg)
3. Eutelsat (France)
4. EchoStar Satellite Services (USA)
5. Telesat (Canada)
6. Harris CapRock (USA) *
7. SingTel Satellite (Singapore)
8. GlobeCast (France) *
9. EMC (Emerging Markets Communications) (USA) *
10. Thaicom Public Company Ltd (Thailand)
11. Encompass Digital Media (USA) *
12. Arqiva Broadcast & Media (UK) *
13. Telespazio S.p.A. (Italy) *
14. Hispasat (Spain)
15. Globecomm (Services revenue) (USA) *
16. AsiaSat (China)
17. RR Media (Israel) *
18. SpeedCast (China) *
19. MEASAT (Malaysia)
20. Telstra (Australia)

* Independent: does not operate satellite capacity

The "Fast Twenty"
The Fast Twenty ranks all teleport-operating companies based on year-over-year revenue growth in their most recent fiscal years. Emerging Markets Communications was the fastest of the fast with 76% growth. Ranked by revenue growth, the Fast Twenty of 2015 are:
Growth Rate:
1. EMC (Emerging Markets Communications) (USA) * 97.14%
2. Global Data Systems (USA) * 68.89%
3. SpeedCast (China) * 32.56%
4. EchoStar Satellite Services (USA) 27.77%
5. Virgin Technologies (Canada) * 24.98%
6. Gazprom Space Systems (Russia) 24.32%
7. STN (Slovenia) * 18.37%
8. Elara Comunicaciones (Mexico) * 9.89%
9. Eutelsat (France) 9.55%
10. Telstra Corporation (Australia) * 9.18%
11. Jordan Media City (Jordan) * 8.50%
12. RR Media (Israel) * 7.74%
13. Essel Shyam (India) * 7.16%
14. Thaicom Public Company Ltd (Thailand) 6.55%
15. Onlime (Germany) * 5.57%
16. Encompass Digital Media (USA) * 5.57%
17. MEASAT (Malaysia) 3.56%
18. SES (Luxembourg) 3.04%
19. Axesat (Columbia) * 3.01%
20. Telesat (Canada) 2.89%

* Independent: does not operate satellite capacity