[Satnews] Gilat will be hosting a free webinar on November 24, 2015 at 10:00 US Eastern Time and 16:00 Singapore Time addressing the new revolution pertaining to High Throughput Satellites HTS.
HTS is no less than a revolution, bringing an abundance of business opportunities. Multi-spot beams are reshaping the value chain and more capacity is becoming available to service new markets. At the same time, however, this poses immense challenges for the ground segment architecture.
How can you ensure that your network is set up to reap the benefits of the growth opportunities ahead?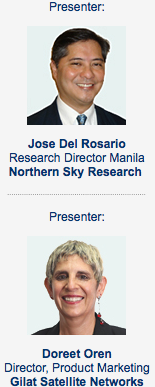 For a comprehensive review of the key verticals impacted by HTS and how the business and technical challenges can be met by the ground segment architecture, you are invited to attend an exciting webinar presented jointly by Jose Del Rosario, NSR's Research Director-Manila, and Doreet Oren, Gilat's Director of Product Marketing.
Learn from the experts about HTS industry trends and Gilat's newly launched cloud-based X-Architecture for SkyEdge II-c.
Topics covered will include:
HTS supply and demand for verticals, including broadband access, enterprise, cellular backhaul, and mobility
How target markets and customer verticals will be affected by the HTS game change
How HTS technology affects different levels of the value chain and the role ground equipment will play in the changing competitive landscape
What is required of the ground segment architecture to meet today's challenges
This free webinar is recommended for satellite operators and service providers looking to better understand the impact of HTS on their business opportunities.
Please register for the session most convenient for your time zone. Upon registering, you will receive a confirmation email, with directions for joining the webinar.
Title: The HTS Revolution – Are you Ready to Take Advantage?
Date: Tuesday, November 24, 2015
Time: 10:00 US Eastern Time 16:00 Singapore Time

Space at the Webinar is limited. Click to reserve your seat for the 10:00 US Eastern Time session