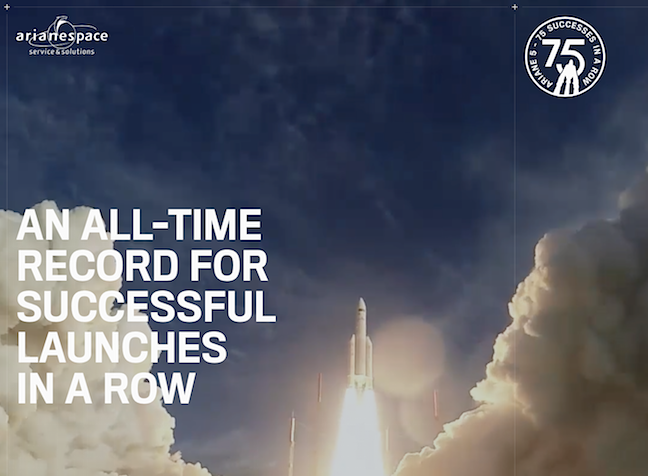 As the end of the year approaches, Arianespace is still in receivership of satellites awaiting launch. Most recently another heavy-lift flight from the Spaceport will take place that will orbit two passengers based on the SSL 1300 relay platform built by Space Systems Loral (SSL), with the second of these spacecraft now delivered to French Guiana.
The Star One D1 satellite arrived this week aboard a chartered An-124 cargo jetliner, which landed at Félix Eboué International Airport near French Guiana's capital city of Cayenne. It now has begun the pre-launch preparation process at the Spaceport—joining JCSAT-15, which arrived in French Guiana late last month.
Star One D1 is the largest satellite ever built for Brazil's Embratel Star One, and is to be positioned at 84 degrees West for a planned operational lifetime of 15 years. It will complement the service provided by Embratel Star One's Brasilsat B4 satellite – launched by Arianespace in 1994, extending operations in C Band, in addition to bringing new capacities in Ku-band for Latin America and Ka-band for Brazil.
Star One D1: the first D family satellite...With an estimated liftoff mass targeted at 6,433 kg., Star One D1 marks the beginning of Embratel Star One's fourth-generation satellites, the D family.

Its C-band relay capacity will handle voice, TV, radio, and data, including Internet. The satellite's Ku-band enables video transmission services directly to users, along with Internet, data and telephony to remote locations. Ka-band provides access to lower-cost broadband and high-speed data transmission for corporate networks and cellular backhaul.

The Ariane 5 mission with Star One D1 is designated Flight VA234 in Arianespace's launch family numbering system, and its JCSAT-15 co-passenger was produced by SSL for Japan's SKY Perfect JSAT Corporation. Operating in Ku-band, JCSAT-15 will be used to support the SKY PerfecTV! multichannel pay TV service in Japan, and also is to provide data transfer communications and maritime and aviation applications for the Oceania and Indian Ocean Region.

http://www.arianespace.com