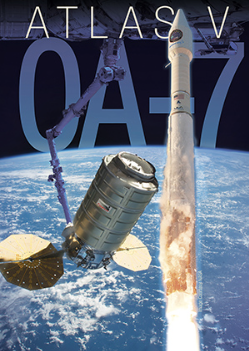 So you're flying in the International Space Station (ISS) and you've been looking forward to getting some more of your favorite snacks. Good news, ULA just released their launch date for the Atlas V rocket carrying the OA-7 Cygnus spacecraft for Orbital ATK and NASA to resupply the ISS ... it is confirmed on the Eastern Range for Friday, March 24. ULA has requested the option to launch on March 23, pending Eastern Range availability. The additional time allows the ULA team to replace and retest a first stage hydraulic component. The Atlas V and Cygnus™ spacecraft remain secure in their processing facilities.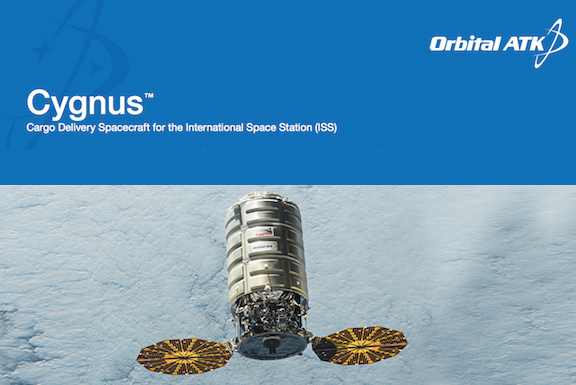 Liftoff is scheduled for approximately 9 p.m. Eastern time on March 24 from Space Launch Complex (SLC)-41 at Cape Canaveral Air Force Station in Florida.

This mission marks the third time ULA's Atlas V has launched spacecraft on its way to the ISS. OA-7 will be the 71st launch of the Atlas V rocket since its first launch in 2002. The Atlas V 401 configuration rocket has flown 35 times, supporting a diverse set of missions, including national security, science and exploration, commercial as well as International Space Station resupply.
Orbital ATK developed the Cygnus advanced maneuvering spacecraft to demonstrate cargo delivery services under a NASA Commercial Orbital Transportation Services (COTS) Space Act Agreement. Orbital ATK uses Cygnus to perform ISS resupply flights under the Commercial Resupply Service (CRS) contract. Orbital ATK is under contract to conduct 10 missions to deliver approximately 28,700 kilograms of cargo to the ISS. The first of these was successfully completed in early 2014. At a total weight of approximately 7,225 kg (15,928 lb), OA-7 will include approximately 3,380 kg (7,452 lb) of internal cargo and an 83 kg (183 lb) external deployer carrying CubeSats.
The Cygnus system is a low-risk design incorporating elements drawn from Orbital ATK and its partners' existing, flight-proven spacecraft technologies. Cygnus consists of a common service module and a pressurized cargo module. Cygnus is used to carry crew supplies, spare equipment and scientific experiments to the ISS. The service module incorporates avionics systems from Orbital ATK's flight-proven LEOStar™ and GEOStar™ satellite product lines plus propulsion and power systems from our GEOStar communications satellites.
The pressurized cargo module is based on the Multi-Purpose Logistics Module (MPLM), developed by Thales Alenia Space for NASA.
https://www.orbitalatk.com/space-systems/spacecraft-buses/docs/Cygnus.pdf