[SatNews] Six months to go...Let's reinvent space together...
The world stands at a moment of great space renaissance. Advances in technology are allowing smaller and cheaper satellites to be orbited—from cubesats to nanosatellites to femtosatellites. Thanks to more efficient new launch possibilities, low cost access to space is becoming ever more achievable. Commercial companies and countries are targeting our industry with new funding.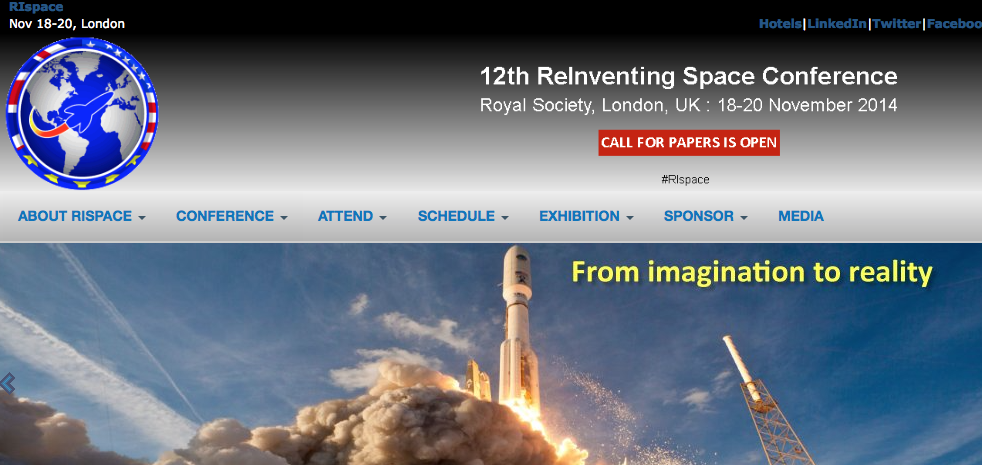 There is a conference dedicated to this sector...Reinventing Space...now in its 12th year at the Royal Society in London between November 18-20 to discuss these exciting times for space.

The Reinventing Space Call For Papers is open for another two weeks, until Monday, June 2, at 17:00 GMT. Papers are welcome on topics as varied as launch systems, reducing mission cost, novel architectures, regulation, payload, platform and ground segments.

RIspace 2014 delegates can enjoy an early bird registration that is open until Thursday 31 July.
Low cost space – from imagination to reality
Increasing demands to reduce spending have led to both new challenges and opportunities in global space. The need to create dramatically lower cost, more responsive space systems and importantly, the launch systems needed to get them to space quickly. So that business and government can take advantage of these rapidly evolving capabilities, an annual conference has been taking place since 2001, dedicated to this sector of better value, highly capable space systems.
The 12th Reinventing Space Conference, organized this year by the British Interplanetary Society, will take place in London, UK between Tuesday 18 - Thursday 20 November 2014.
Confirmed keynote speakers are:-
Alice Bunn Director of Policy, UK Space Agency
Gil Klinger US Deputy Assistant Secretary of Defense
Franco Ongaro European Space Agency Director (D/TEC) and Head of ESTEC
Sir Martin Sweeting Executive Chairman, SSTL; Director, Surrey Space Centre
Jim Wertz President, Microcosm
David Willetts UK Minister of State for Science and Universities
The three day meeting, including a conference and exhibition will be held within the stunning and historical location of the Royal Society.
RIspace 2014 Call for Papers is open and RIspace 2014 registration is open
Visit the website here.