NASA astronaut T.J. Creamer, Russian cosmonaut Oleg Kotov and Japan Aerospace Exploration Agency astronaut Soichi Noguchi, all flight engineers, launched in their Soyuz TMA-17 spacecraft from the Baikonur Cosmodrome in Kazakhstan at 4:52 p.m. EST Sunday to begin a two-day journey to the International Space Station.
The Soyuz TMA-17 rocket launches from the Baikonur Cosmodrome in Kazakhstan at 4:52 p.m. EST on Sunday, Dec. 20, carrying Expedition 22 NASA Flight Engineer Timothy J. Creamer of the U.S., Soyuz Commander Oleg Kotov of Russia and Flight Engineer Soichi Noguchi of Japan to the International Space Station. Photo Credit: NASA/Bill Ingalls
Less than 10 minutes after launch, their spacecraft reached orbit and its antennas and solar arrays were deployed.
NASA astronaut and Expedition 22 Commander
Jeff Williams and Russian cosmonaut and Flight Engineer Maxim Suraev are currently the sole residents on the station, having arrived October 2 aboard their Soyuz TMA-16 spacecraft.
The station's five residents have some busy months ahead. Kotov and Suraev will conduct a planned spacewalk in January from the Pirs airlock, part of the station's Russian segment.
Less than a week later, Williams and Suraev will fly the Soyuz spacecraft that brought them to the station from its current location on the end of the outpost's Zvezda service module to the new Poisk module.
In February, the crew will welcome a Progress unmanned resupply ship and space shuttle Endeavour's STS-130 mission. Endeavour and its crew will deliver the new Tranquility node and its cupola, one of the last major portions of the station to be installed.
Creamer, Kotov and Noguchi will complete the Expedition 22 crew when they dock to the station on December 22.
Creamer
, 50, a
U.S. Army colonel
from Upper Marlboro, Maryland, will be making his first spaceflight. Assigned to NASA's Johnson Space Center in 1995 as a space shuttle vehicle integration test engineer, he supported eight shuttle missions as vehicle integration test team lead and specialized in coordinating the information technologies for the Astronaut Office. Selected as an astronaut in 1998, Creamer worked with hardware integration and robotics and was a support astronaut for Expedition 12.
Kotov
, 44,
a physician and Russian Air Force colonel
, will be making his
second spaceflight and serving his second tour aboard the station
. Selected as a cosmonaut in 1996, he trained as a cosmonaut researcher for a flight on the Soyuz and as a backup crew member to the Mir-26 mission. A former lead test doctor at Gagarin Cosmonaut Training Center, he served as a flight engineer and Soyuz commander on the Expedition 15 mission in 2007. He will be a flight engineer for Expedition 22 and assume the duties of Expedition 23 commander when Williams departs in March 2010.
Noguchi
, 44,
an aeronautical engineer
from Chigasaki, Kanagawa, Japan, will be making his second spaceflight. He was selected by the National Space Development Agency of Japan (NASDA), now JAXA, as an astronaut candidate in 1996 and trained at Johnson Space Center. After completing his astronaut training, he supported development and integration of the station's Japanese Kibo experiment module. Noguchi flew on the STS-114 return-to-flight mission of Discovery in 2005. He has logged nearly 14 days in space, including more than 20 hours of spacewalks to test new procedures for shuttle inspection and repair techniques.
Earlier .
. .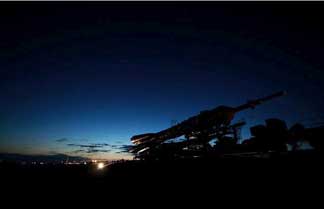 The first dramatic photos are revealed as the Soyuz TMA-17 lays on its side, while crews steadfastly prep it for its launch, Monday, December 21.
The launch takes place in Baikonur Cosmodrome, Kazakhstan, and is a cooperative effort of the Russian, Japanese and American space agencies' astronauts.
The
Russian cosmonaut
,
Oleg Kotov
;
Japan Aerospace Exploration Agency
, or
JAXA
, astronaut
Soichi Noguchi
; and
NASA astronaut
T.J. Creamer
will all return in
May 2010 on Soyuz 21
.
(18 Dec. 2009) The Soyuz TMA-17 spacecraft is rolled out by train to the launch pad at the Baikonur Cosmodrome, Kazakhstan, on December 18, 2009. The launch of the Soyuz spacecraft with Expedition 22 NASA astronaut T.J. Creamer, flight engineer; Russian cosmonaut Oleg Kotov, Soyuz commander; and Japan Aerospace Exploration Agency astronaut Soichi Noguchi, flight engineer, is scheduled for December 21, 2009 at 3:52 a.m. Kazakhstan time. Photo credit NASA/Bill Ingalls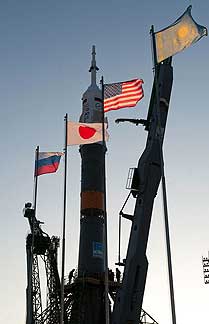 (18 Dec. 2009) The flags of Russia, Japan, the United States and Kazakhstan are seen flying shortly after the Soyuz TMA-17 spacecraft was raised into vertical position at the launch pad of the Baikonur Cosmodrome, Kazakhstan, on December 18, 2009. The launch of the Soyuz spacecraft with Expedition 22 NASA astronaut T.J. Creamer, flight engineer; Russian cosmonaut Oleg Kotov, Soyuz commander; and Japan Aerospace Exploration Agency astronaut Soichi Noguchi, flight engineer, is scheduled for December 21, 2009 at 3:52 a.m. Kazakhstan time. Photo credit NASA/Bill Ingalls