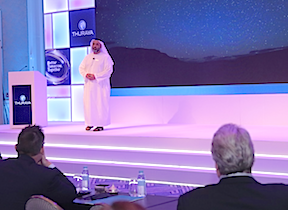 With products and services evolving at hyper speed in the space industry it is crucial that the partnerships that have grown are maintained, which is precisely the goal of Thuraya's 16th Annual Partner Conference held in Dubai. This year's theme of "Better Tomorrow. Together" celebrates Thuraya's relationship with its partners and distributers signifying the importance of collaborative efforts.
Thuraya Telecommunications Company welcomed international and regional delegates from Africa, Asia, Australia, Europe, the GCC and North America to its 16th annual Partner Conference in Dubai. Held from 10 to 11 April, the two-day conference is taking place at the Four Seasons Resort. During the two-day program, Thuraya is launching several new products, and sharing information with partners about the growth plans for 2018 and beyond. The second day of the event will comprise of technical workshops as well as a product exhibition area by more than 15 exhibitors.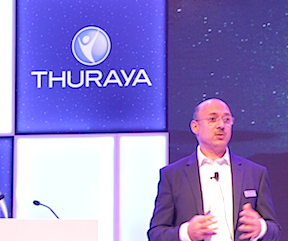 The event was initiated by a presentation from acting Chief Executive Officer, Ahmed Al Shamsi who shared an overview of the company's progress in 2017 and its plans moving forward. The sessions that followed involved a number of guest speakers including Mr. Dietmar Schmitt, Head of Technologies and Products Division at the European Space Agency, as well as Dr. Muneer Zuhdi, CTO and Head of Global IoT Smart City Solutions at Nokia.
Rashid A Baba, acting Chief Commercial Officer said that during this year's TPC they are joined by hundreds of delegates from all over the globe. This is a testament for Thuraya being the partner of choice for their partners and serves as a strong motivation for them to continue delivering on their promise of offering comprehensive connectivity solutions to their associates who are key pillars for their continuous growth and development.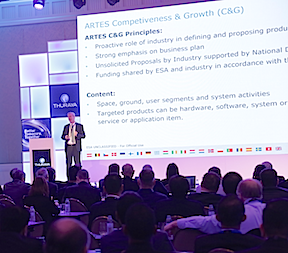 Throughout 2017, Thuraya made great strides in strengthening its product innovation strategy, business models and distribution channels. The company unveiled a number of new products and services including Thuraya IP M2M, an advanced telemetry solution for M2M connectivity in remote locations. Additionally, and to allow customers a convenient way to stay connected, Thuraya Talk a Voice over IP (VoIP) service was launched for personal and professional use. It also announced both Thuraya WE, the world's first dual-mode Satellite and LTE hotspot and Thuraya Aero, an airborne data-sharing platform for in-flight connectivity.
2017 was an award-winning year for Thuraya with the following:
Thuraya's XT-PRO DUAL won MSUA Top Land Mobility Satcom Innovation Award at Satellite 2017 in Washington
The MSS Operator of the Year award from SatellitePro
Satellite Operator of the Year from Telecom Review