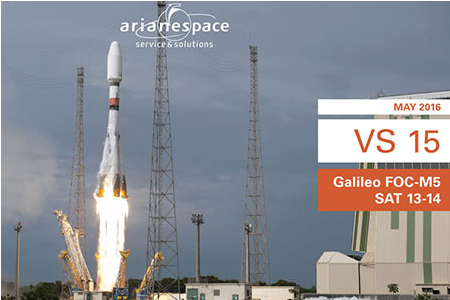 All is proceeding on course in preparation for launch of the two Galileo spacecraft making this the 13th and 14th.
Arianespace's medium-lift Soyuz is "standing tall" in French Guiana—and ready for payload integration—following its transfer to the workhorse vehicle's dedicated Spaceport launch complex earlier today.
With this rollout and the basic three-stage vehicle's subsequent vertical positioning over its launch pad, Soyuz marked another key step toward Arianespace's May 24 mission—which is to orbit the latest two FOC (Full Operational Capability) satellites for Europe's Galileo space-based navigation system.
In procedures that have become familiar at the Spaceport, Soyuz was moved via a transport/erector rail car in a horizontal-transfer process from the MIK launcher assembly facility to the ELS launch zone. Once over the launch pad, the vehicle was erected into a vertical orientation, where it is suspended in place by four large support arms.
Following this step's completion, the mobile gantry was moved into position over the launcher—providing protection for the upcoming installation of Soyuz' "upper composite," which consists of the Galileo spacecraft and their dispenser system, plus the Fregat upper stage and payload fairing.
Earlier this week in the Spaceport's S3B clean room facility, preparations involved encapsulation of the two Galileo spacecraft and their dispenser system, which had been installed atop Soyuz' Fregat upper stage the previous day. The encapsulation was carried out using a two-piece Soyuz-ST payload fairing, and was followed by the addition of mission logos.
This completed unit, called the "upper composite," was mated atop Soyuz after the workhorse vehicle's rollout on Friday from the MIK integration building—where launcher assembly is handled—to the ELS launch zone.
Supporting Europe's Galileo Program
The May 24 flight's two passengers, built by OHB System, with Surrey Satellite Technology Ltd. supplying their navigation payloads, are the 13th and 14th FOC satellites in the Galileo program, which is creating a European-operated space-based navigation system.
Galileo's FOC phase, during which the network's complete operational and ground infrastructure will be deployed, is managed and funded by the European Commission. The European Space Agency has been delegated as the design and procurement agent on the Commission's behalf.
Designated VS15 in Arianespace's numbering system, next week's mission is scheduled to lift off at precisely 5:48:43 a.m. a.m. local time in French Guiana, with its Galileo satellite passengers to be deployed into a targeted circular orbit during a flight lasting approximately 3 hrs., 47 min.