They did it, again. SpaceX's Falcon 9 performed a perfect launch of Japan's JCSAT-16 into geostationary transfer orbit (GTO) from its Space Launch Complex 40 at Cape Canaveral Air Force Station, Florida at 1:26am ET on August 14. Then right on cue the Falcon 9 came back down on a floating drone ship aptly named "Of Course I Still Love You".

And this was no small task this time as getting to GTO requires tremendous speed and consumes volumes of fuel during take off, considerably more than getting to lower Earth orbit creating a major challenge for the rocket landing afterward. GTO is a highly elliptical orbit that takes the satellite 20,000 miles out beyond Earth's surface. According to SpaceX the rocket is subjected to "extreme velocities and re-entry heating" during its fall back to Earth, resulting in less fuel leftover for the vehicle to reignite its engines and perform the necessary landing maneuvers. And yet they did it successfully, making this the fourth time SpaceX has landed one of its vehicles at sea and the company's fifth rocket recovery this year.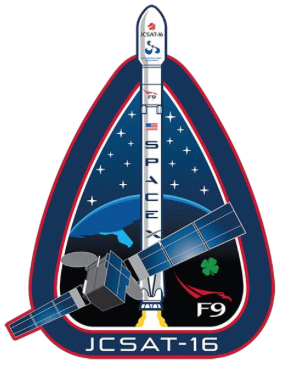 JCSAT-16 is a commercial communications satellite for SKY Perfect JSAT Corporation, which is a satellite operator in the Asia-Pacific region that provides satellite communications to its customers using its fleet of 16 satellites. SpaceX's Falcon 9 successfully launched JCSAT-14 in May.
SpaceX now has experienced more successes than failures with its rocket recoveries. Of SpaceX's 11 rocket landing attempts over the past two years, six Falcon 9 vehicles have successfully made it back to Earth intact. Now, what to do with the 'empties', the stockpile of recovered rockets? Until now almost all of the rockets have either been destroyed or unrecovered after the launch.
CEO Elon Musk said the company is aiming to launch its first landed rocket sometime this fall, either in September or October. The plan is to re-launch the Falcon 9 that SpaceX landed in April, but they didn't say what the rocket will carry into space. By reusing the Falcon 9 vehicles the company will enjoy a 30 percent reduction in launch costs.
JCSAT-16 is a Space Systems Loral (SSL) telecommunications satellite carrying Ku-band and Ka-Band transponders. The satellite will function as an in-orbit back-up satellite to the company's existing services in the Ku- and Ka-band, enabling the provision of more stable satellite services and further strengthening the foundations of SKY Perfect JSAT Corporation's business.
SKY Perfect JSAT offers a wide range of services including video distribution, data transfer communications in Asia, Russia, Oceania, Middle East and North America. The company also operates the largest Direct-to-Home satellite broadcasting platform, "SKY PerfecTV!" in Japan which provides over 250 channels to approximately 3.4 million households.
SpaceX's Space Launch Complex 40 (SLC-40) at Cape Canaveral Air Force Station is an historic launch site with a strong heritage. The site, located at the north end of the Cape, was used for many years to launch Titan rockets, among the most powerful rockets in the US fleet. SpaceX took over the facility in May 2008.