[SatNews] The third time was again a 'no go'. Flightworthiness will be determined tomorrow, Tuesday.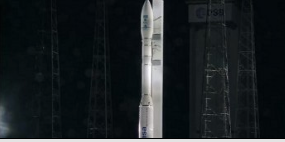 Arianespace released this statement:
Arianespace observed a non-compliant behavior of the payload's ventilation
umbilical during countdown after the gantry's withdrawal.
According to its quality policy, Arianespace has decided to perform an
inspection of its facilities.
This inspection will take a few hours and a decision regarding the
launcher's flightworthiness will be made tomorrow.
NASA's information is as follows:
Arianespace has scrubbed its third launch of the Vega rocket, which was tasked with lofting Kazakhstan's DZZ-HR Earth observation satellite, also known by the name KazEOSat-1, into a Sun-synchronous orbit on Monday evening. Lift off from pad ELA-1 at the European spaceport in Kourou, French Guiana was scheduled for 01:35 UTC (Tuesday), prior to a scrub being called just ahead of T-10 minutes.
Vega Launch – Scrubbed ahead of T-10 minutes, no reason given. Launch preview follows below:
The four-stage launcher is tailored to carry the growing number of small scientific spacecraft and other lighter-weight payloads under development or planned worldwide.
ATKVega also offers configurations able to handle payloads ranging from a single satellite up to one main satellite plus six microsatellites.
Arianespace started work on the vehicle back in 2003 – as much as the origins of the concept range back to the 1990s – with ELV SpA (Italy) the lead manufacturer.
Vega utilizes a P80 advanced solid propellant first stage motor, featuring a novel filament-wound casing structure, utilizing new-generation, high-quality production techniques.
TVega Stageshe second and third stages – designated Zefiro 23 and Zefiro 9, respectively – also use solid propellant motors, while the launcher is topped off by the bi-propellant liquid upper stage (called AVUM – Attitude and Vernier Upper Module).
Although the debut launch was originally targeting 2007, the first mission – designated VV01 per Arianespace's system – enjoyed a success launch, carrying nine satellites into space during its February 12, 2012 mission.
The success qualified the overall Vega system, including the vehicle, the ground infrastructure and operations, from the launch campaign to the payload separation and disposal of the upper module.
In particular, the mission demonstrated the vehicle's performance and payload services.
A second launch saw the vehicle successfully loft its primary payload, the Proba-V spacecraft, along with the VNREDSat-1A and ESTCube-1 satellites.
This flight has the VV03 designation in Arianespace's launcher family numbering system which signifies the third flight of this vehicle, following missions conducted in May 2013 and February 2012.
It will second launch performed during April by Arianespace, following Flight VS07 with Soyuz – which lofted Europe's Sentinel-1A Earth observation satellite on April 3.
Z5The 900-kg.-class DZZ-HR satellite was built for the Republic of Kazakhstan by Airbus Defence and Space.
To be deployed in a Sun-synchronous orbit, it will deliver very-high-quality panchromatic and multispectral products for a wide range of applications – including cadastral surveys, management of natural resources, environmental monitoring and homeland surveillance.
The spacecraft is expected to enjoy a service life of 7.5 years on orbit.
Z9Following liftoff from the Guiana Space Center, the powered phase of the first three stages of Vega will last 6 minutes and 14 seconds.
After this first phase, the launcher's third stage will separate from the upper composite, which includes the AVUM upper stage, a payload adapter and the satellite. The lower three stages will fall back to Earth.
The AVUM upper stage will ignite its engine for the first time, operating for about 5 minutes, followed by a ballistic phase lasting about 41 minutes. The AVUM stage will then reignite its engine for about 2 minutes, prior to releasing the DZZ-HR satellite a minute after the engine is shut down.
The DZZ-HR satellite will be released at 55 minutes and 29 seconds after liftoff.
Upcoming for Vega: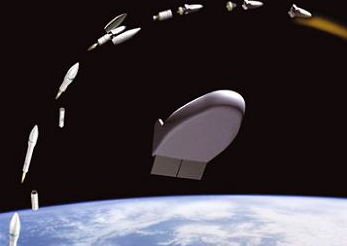 ESA's IXVVega's future will include the launch of ESA's IXV (Intermediate eXperimental Vehicle), which is now into a detailed planning stage, a major step towards the spacecraft's projected 2014 flight. (L2 Link to 15 Presentations on IXV)
Launched into a suborbital trajectory from Kourou, the IXV will return to Earth as if from a low-orbit mission, allowing for the testing and qualification of new critical technologies for future re-entry vehicle concepts.
During it mission, the vehicle will aim for an altitude of around 450 km, allowing it to reach a velocity of 7.5 km/s on entering the atmosphere and will collect a large amount of data during its hypersonic and supersonic flight, while it is being controlled by thrusters and aerodynamic flaps.
IXV will then descend by parachute and land in the Pacific Ocean to await recovery and analysis.
(Images via Arianespace)