A report regarding an industry that looks promising into the future.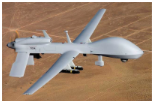 The new 342 page 'Military Unmanned Aerial Vehicle (UAV) Market Report 2016-2026' report indicates that the UAV market is set to be worth $7,447m in 2016 as a result of sustained spending on military unmanned aerial vehicles in both established and emerging national markets.

Sophie Hammond, defense analyst and the author of the military UAV report commented that, "The global military unmanned aerial vehicle (UAV) market is a dynamic one that will register strong growth during this period. Ongoing security issues, rising defense spending and the emergence of new national markets will drive demand for COTS systems, while established market players will continue to develop more sophisticated domestic UAVs during the next ten years."

The 342 page report contains 301 tables, charts and graphs that utilize visual representation in order to clarify trends and market projections within the military UAV market. The report provides a range of forecasts for the period 2016-2026, as well as for five submarket sectors: HALE, MALE, Tactical, UCAV, and Small.

In addition, 8 leading national markets are analyzed over the period 2016-2026, while the 'Rest of the World' market includes unprecedented qualitative analysis of a further four national markets. The report also provides profiles of 14 leading companies operating within the market, and also includes two exclusive expert interviews with Sascha Lange, Head of Market analysis & Business development, EMT Penzberg, and Ole Aguirre, Vice President Business Development, Prox Dynamics AS.

The Military Unmanned Aerial Vehicle (UAV) Market Report 2016-2026: Forecasts & Analysis of Top Companies Leading Development of HALE, MALE, Small, Tactical & UCAV Systems report will be of impressive value to current, and future, investors into the defense industry, as well as to companies and research centers who wish to broaden their knowledge of the UAV market.