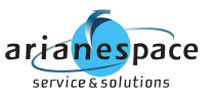 Pre-flight activities for the upcoming Arianespace Ariane 5 mission continue to ramp up at the Spaceport in French Guiana, with launcher and payload preparations advancing in parallel for the October 4th liftoff.
In a major milestone reached this month, Ariane 5 was rolled out from the Spaceport's Launcher Integration Building where the launch vehicle's core cryogenic stage, two solid boosters and cryogenic upper stage were mated to the Final Assembly Building. This process formally transferred authority for the heavy-lift vehicle to Arianespace from production prime contractor Airbus Safran Launchers.
With Ariane 5 now under Arianespace's responsibility, the launcher is in position to receive two passengers: the Sky Muster II and GSAT-18 telecommunications satellites, both of which were fueled earlier this month inside the Spaceport's S5 payload preparation facility. The October 4 mission with Ariane 5 is designated Flight VA231 in Arianespace's numbering system, and two spacecraft are scheduled to be delivered to geostationary transfer orbit.

Built by SSL (Space Systems Loral) for the Australian national broadband network (nbn™), Sky Muster II will use advanced-design multiple spot beams to help bridge the digital divide for some 400,000 homes and businesses in regional and remote areas of the country. Sky Muster II is one of the world's largest communications platforms with a liftoff mass estimated at 6,400 kg and this satellite's launch follows the orbiting of nbn's first Sky Muster satellite on an Arianespace Ariane 5 mission which was performed in September 2015.

Flight VA231's second passenger—GSAT-18—is a 3,400-kg-category telecommunications spacecraft developed by the Indian Space Research Organisation (ISRO). Once in orbit, this satellite will serve as a replacement for operational satellites that currently provide key national services in multiple frequency bands—to be joined by GSAT-17—which will be orbited on a future Ariane 5 mission from the Spaceport in French Guiana.