The weather cooperated and so begins a 300-million-mile trip to Mars for NASA's Mars InSight (Interior Exploration using Seismic Investigations, Geodesy and Heat Transport) where it will study for the first time what lies deep beneath the surface of the Red Planet. InSight launched at 7:05 a.m. EDT (4:05 am PDT) Saturday from Vandenberg Air Force Base, California.
"The United States continues to lead the way to Mars with this next exciting mission to study the Red Planet's core and geological processes," said NASA Administrator Jim Bridenstine. "I want to congratulate all the teams from NASA and our international partners who made this accomplishment possible. As we continue to gain momentum in our work to send astronauts back to the Moon and on to Mars, missions like InSight are going to prove invaluable."
First reports indicate the United Launch Alliance (ULA) Atlas V rocket that carried InSight into space was seen as far south as Carlsbad, California, and as far east as Oracle, Arizona. One person recorded video of the launch from a private aircraft flying along the California coast.
Riding the Centaur second stage of the rocket, the spacecraft reached orbit 13 minutes and 16 seconds after launch. Seventy-nine minutes later, the Centaur ignited a second time, sending InSight on a trajectory towards the Red Planet. InSight separated from the Centaur 14 minutes later — 93 minutes after launch — and contacted the spacecraft via NASA's Deep Space Network at 8:41 a.m. EDT (5:41 PDT).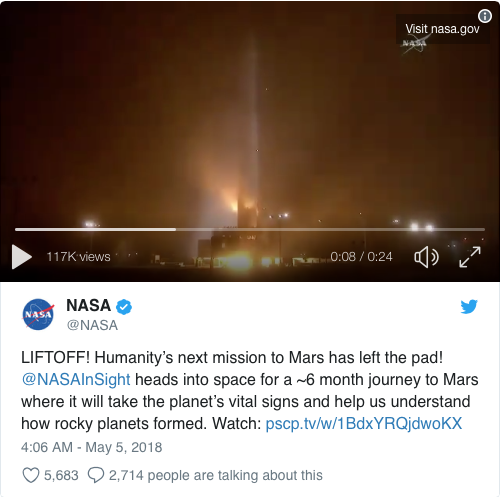 "The Kennedy Space Center and ULA teams gave us a great ride today and started InSight on our six-and-a-half-month journey to Mars," said Tom Hoffman, InSight project manager at NASA's Jet Propulsion Laboratory (JPL) in Pasadena, California. "We've received positive indication the InSight spacecraft is in good health and we are all excited to be going to Mars once again to do groundbreaking science."
With its successful launch, NASA's InSight team now is focusing on the six-month voyage. During the cruise phase of the mission, engineers will check out the spacecraft's subsystems and science instruments, making sure its solar arrays and antenna are oriented properly, tracking its trajectory and performing maneuvers to keep it on course.
InSight is scheduled to land on the Red Planet in the Elysium Planitia region around 3 p.m. EST November 26, where it will conduct science operations until November 24, 2020, which equates to one year and 40 days on Mars, or 728 Earth days, nearly two Earth years.
According to NASA, it is "the first mission dedicated to understanding the internal structure of Mars." The lander will dig deeper into Mars than ever before — nearly 16 feet or 5 meters — to take the planet's temperature. It will also attempt to make the first measurements of marsquakes, using a seismometer placed directly on the Martian surface.
"This mission will probe the interior of another terrestrial planet, giving us an idea of the size of the core, the mantle, the crust and our ability then to compare that with the Earth," said NASA's chief scientist Jim Green. "This is of fundamental importance to understand the origin of our solar system and how it became the way it is today."
"Scientists have been dreaming about doing seismology on Mars for years. In my case, I had that dream 40 years ago as a graduate student, and now that shared dream has been lofted through the clouds and into reality," said Bruce Banerdt, InSight principal investigator at JPL.
The InSight lander will probe and collect data on marsquakes, heat flow from the planet's interior and the way the planet wobbles, to help scientists understand what makes Mars tick and the processes that shaped the four rocky planets of our inner solar system.
"InSight will not only teach us about Mars, it will enhance our understanding of formation of other rocky worlds like Earth and the Moon, and thousands of planets around other stars," said Thomas Zurbuchen, associate administrator for NASA's Science Mission Directorate at the agency headquarters in Washington. "InSight connects science and technology with a diverse team of JPL-led international and commercial partners."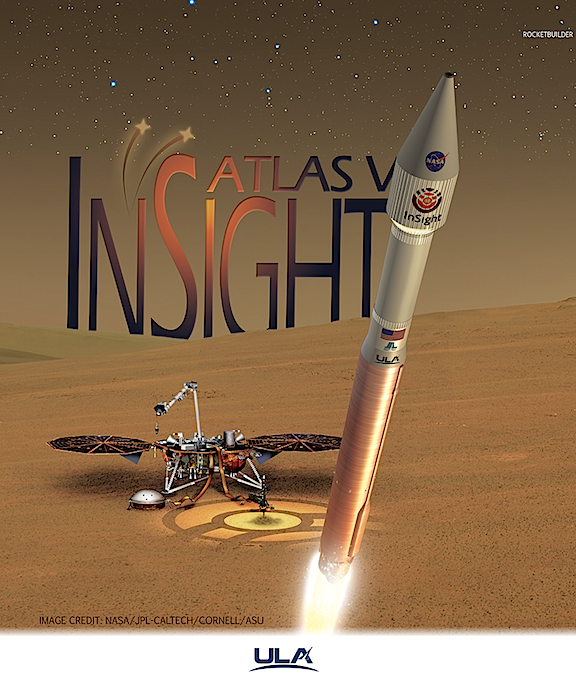 The two-year InSight mission seeks to understand the evolutionary formation of rocky planets, including Earth, by investigating the interior structure and processes of Mars. InSight will also investigate the dynamics of Martian tectonic activity and meteorite impacts, which could offer clues about such phenomena on Earth.
InSight is the first interplanetary mission launched from the West Coast, because of the performance of the Atlas V rocket, which also will launch two CubeSats.
InSight is the 38th Atlas V rocket to launch in the 401 configuration and the 78th Atlas V to launch since the inaugural flight in 2002.
ULA and its heritage rockets have launched every U.S.-led mission to Mars, including the Spirit, Opportunity and Curiosity rovers as well as the MAVEN satellite.
InSight - Studying the 'Inner Space' of Mars
InSight, short for Interior Exploration using Seismic Investigations, Geodesy and Heat Transport, is a Mars lander designed to give the Red Planet its first thorough checkup since it formed 4.5 billion years ago. It is the first outer space robotic explorer to study in-depth the "inner space" of Mars: its crust, mantle, and core.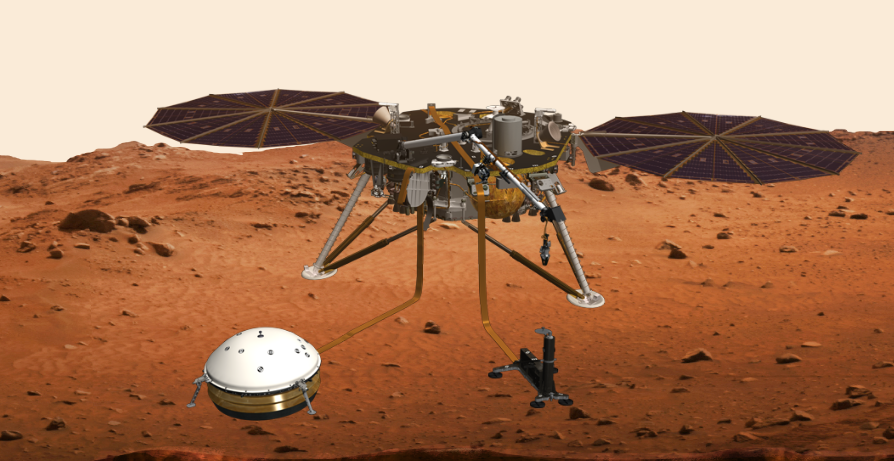 Studying Mars' interior structure answers key questions about the early formation of rocky planets in our inner solar system — Mercury, Venus, Earth, and Mars — more than 4 billion years ago, as well as rocky exoplanets. InSight also measures tectonic activity and meteorite impacts on Mars today.
The lander uses cutting edge instruments, to delve deep beneath the surface and seek the fingerprints of the processes that formed the terrestrial planets. It does so by measuring the planet's "vital signs": its "pulse" (seismology), "temperature" (heat flow), and "reflexes" (precision tracking).
This mission is part of NASA's Discovery Program for highly focused science missions that ask critical questions in solar system science.
First CubeSat to Deep Space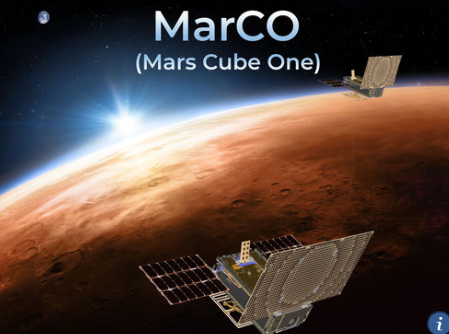 The rocket that will loft InSight beyond Earth will also launch a separate NASA technology experiment: two mini-spacecraft called Mars Cube One, or MarCO. These briefcase-sized CubeSats will fly on their own path to Mars behind InSight.
Their goal is to test new miniaturized deep space communication equipment and, if the MarCOs make it to Mars, may relay back InSight data as it enters the Martian atmosphere and lands. This will be a first test of miniaturized CubeSat technology at another planet, which researchers hope can offer new capabilities to future missions.
If successful, the MarCOs could represent a new kind of communication capability to Earth. InSight's mission success, however, is independent of its CubeSat tag-alongs.