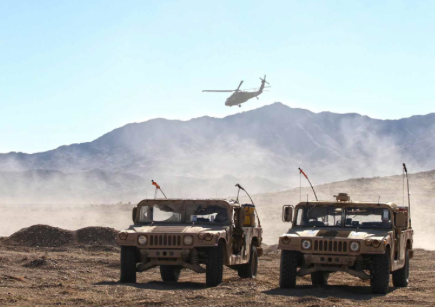 A two-year $189 million contract between Harris Corporation (NYSE:HRS) and United Arab Emirates Armed Forces which provides UAE with an integrated battle management system (BMS) was announced. Additionally, this furthers Harris' position that is now established as a best-in-breed battlefield systems integrator for global customers.
The agreement indicates that Harris' system will provide the UAE with initial operational capabilities as the country begins using enhanced battlefield management solutions. Further, the contract was issued under the Emirates Command & Control System (ECCS) Land Tactical System (ELTS) program, a major C4ISR program that will integrate, coordinate and maximize the combined efficiency of UAE Armed Forces assets.
Harris Battlefield Management Systems offer military customers the current continuous operations platform for situational awareness and staff functions. Through a combination of the most current technology and valuable systems integration services, military users can track hostile and blue forces, develop and execute tactical operations and integrate personnel, intelligence, local weather, planning, and other data into battlefield operations.
Ed Zoiss, president of Harris Electronic Systems commented that the Land Tactical System project represents a major milestone in the advancement of battlefield management and staff function capabilities for the UAE Armed Forces, and it will help ensure that the UAE Land Forces brigades are equipped to succeed on the modern battlefield.

http://harris.com