The market was a bit lower and slower this year, and is duly noted in Northern Sky Research's report in its sixth year.
NSR's Satellite Manufacturing and Launch Services, now in its 6th year, provides the industry's analysis of the dynamics surrounding design, construction, and launch of new satellites. Encompassing global demand across all satellite applications and from LEO to GEO and beyond, SMLS6 presents an in-depth view into prospects for manufacturers and launch service providers over the next decade.
After a year of lower order and launch rates reflective of an evolving environment for operators both commercial and government, this assessment of global activities and opportunities provides the market intelligence critical to today's heightened competitive environment. From LEO constellations to commercial GEO communications to Government Earth Observation and more, SMLS6 offers a detailed view into each satellite segment while providing top-level perspective on market potential.
Supported by a detailed proprietary database of satellite specifications, extensive first hand perspective from players, and years of data, the forecasts and analysis of SMLS6 present a grounded assessment of today's market dynamics. Further leveraging NSR's industry-leading analysis in each market segment, from commercial EO to government communications, the report is built on a comprehensive characterization of the evolving shape of operator demand that in turn drives manufacturing and launch services markets.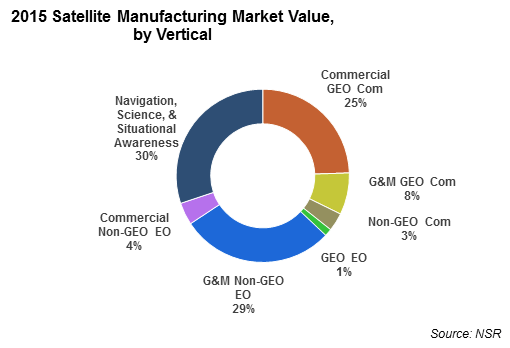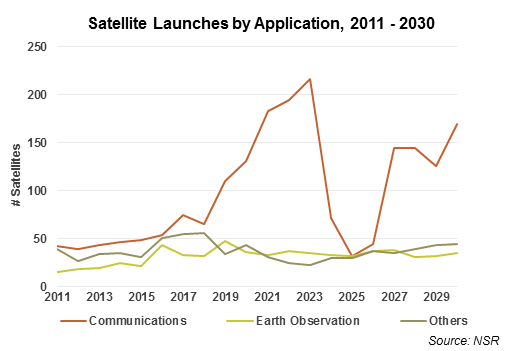 Satellite Manufacturing and Launch Services, 6th Edition tackles the key questions of this challenging market:
How will HTS adoption and the dramatic increase in on-orbit capacity impact annual satellite procurement?
In what ways will the rapidly growing small satellite market and New Space mindset affect the traditional industry?
What challenges will announced constellations face in delivering on their proposals?
How will the mass profile of GEO satellites evolve alongside use of electric propulsion and a changing launch landscape?
Can today's global GEO market support 8+ prime manufacturers and 5+ launch service providers?
In what ways will the open – captive market division change moving forward?
Will government spending on space activities continue to generate the largest share of manufacturing and launch revenue?