[Satnews] NSR asks will FSS become video only?
Over the past year or so, one of the questions most frequently posed to NSR by clients, industry insiders, conference attendees, and others in the know, has been, "what happens to the traditional FSS satellites in the face of all this HTS? Won't most data applications migrate over to lower cost per bit and better efficiencies offered by HTS payloads?"
The short answer is yes. Moving forward, NSR expects traditional FSS payloads to focus much more on point-to-multipoint applications; namely DTH and Video Distribution, with the implicit understanding that these will be the only major applications in the very long term for which traditional FSS can offer a truly unique value proposition. Conversely, the majority of point-to-point data applications will see a significant—although not complete—migration to HTS.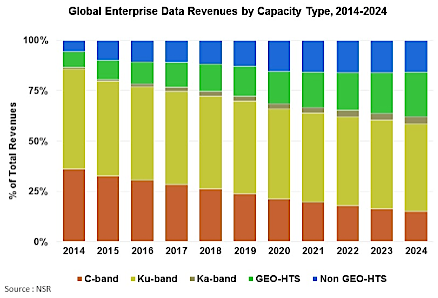 The Evolution of Enterprise Data to an HTS Application
Taking data from NSR's recently published Global Satellite Capacity Supply & Demand, 12th Edition study, we see that Enterprise Data revenues are slowly but surely moving to HTS, with NSR anticipating just under 40 percent of Enterprise Data revenues to move towards GEO-HTS and Non GEO-HTS systems by 2024, up from just over 10 percent in 2014. This will be driven by multiple factors, namely GEO-HTS systems in developing markets aggressively targeting applications such as Backhaul, VSAT Networking, and Trunking, in particular players like Avanti and YahSat in Africa, Thaicom in East Asia, and to some extent ViaSat in North America. This could become even more pronounced as more regional players start to launch HTS capacity.
The second major driver of this migration will be the backwards compatibility of systems such as Intelsat EpicNG, which will see data market giant Intelsat migrate much of its Enterprise Data demand to Epic. Players like O3b will also grab some market share and contribute to the HTS revenue tally; however, NSR sees customers of Non GEO-HTS systems as largely incremental demand rather than a migration of existing customers over to HTS. Beyond the above factors, potential game changers include the possible advent of "Ultra High Throughput Satellites" with capacity of up to, or exceeding, 1 Tbps, as well as the oft-mentioned but still wholly unproven LEO-HTS constellation business model. In addition, the other major "data-centric" vertical, Consumer Broadband, continues to be a nearly wholly HTS phenomenon, with nearly 97 percent of broadband revenues by 2024 coming from GEO-HTS or Non GEO-HTS payloads.
Which Leads Us to Video-Only FSS?
Overall, operators will become progressively more reliant on Video, DTH, and Contribution customers to fill their traditional FSS payloads. As contracts such as the SES deal with Oi! Brasil show, there is still very much a market for long-term anchor clients leasing widebeam C-band and Ku-band capacity. It was later revealed that Oi! is leasing around 32 transponders of Ku-band capacity on SES-6, and other emerging markets offer similar opportunities for the right capacity at the right price.
Long-term, around 70 percent of traditional FSS revenue is expected to come from video applications by 2024, and when taking out the fast-growing Commercial Mobility and captive (and "slow to adapt to change") Gov/Mil segments, this number easily exceeds 80 percent. Therefore, while it may be a stretch to state that in the "ten year horizon" timeframe, traditional FSS payloads will become video only, it is undeniable that we are moving down that path more rapidly with every new procurement of an HTS payload or constellation that announces a new funding round. Long-term, there will always be some demand for data applications on FSS payloads, for example for clients who have very high SLAs, are active in remote areas, or prefer to have C-band or Ku-band as a backup to a higher throughput solution via a spotbeam Ka-band solution. These clients will remain lucrative for as long as the market will support the current pricing paradigm, but consistent talk of overcapacity surely has some customers whispering about negotiating lower prices due to increased bargaining power.
Bottom Line
The satellite telecom industry is undergoing a significant shift into a dichotomy of traditional FSS satellites that largely target video applications and some niche data applications, generally following the old industry paradigm, and high throughput satellites that are targeting a more "mass market data" type of application. Industry growth moving forward will surely be more focused towards the latter, however video via satellite is not going anywhere anytime soon, and for operators with the right capacity, there remain opportunities to capitalize on emerging customers in emerging markets that hope to capitalize on the "point-to-multipoint" efficiencies offered by your run of the mill C-band or Ku-band capacity. However, if advances like OTT, which is video in the form of data, leads to massive cord cutting, then the migration to HTS will become even more pronounced and could very well highly diminish the value proposition of Traditional Widebeam FSS. Only time will tell.