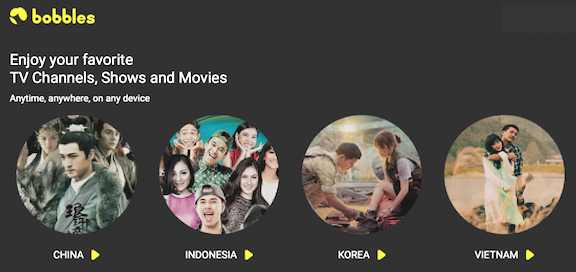 Clever names capture our attention, and when a company wants to be remembered a fun moniker is the solution... such as bobbles.tv.
Bobbles.tv is a newly-launched pan-European Pay TV platform that has contracted with SES for capacity and MX1's services to launch a new global TV platform for expats in Europe.
Bobbles.tv enables expats a choice to subscribe to direct-to-home (DTH), over-the-top (OTT), or both packages, and the two content packages offered at their launch are Chinese and Indonesian via ASTRA 19.2 degrees East. More Asian packages will be launched during the second half of 2016. The viewers will choose linear content via DTH broadcasting and/or choose to view at their convenience using time-shifting and catch-up features via an OTT platform.
Specifics regarding the contracts among the various agencies are: Under the agreement, bobbles.tv will contract SES and MX1 to provide DTH and OTT back-end services, as well as distribution services via satellites and content delivery networks. MX1 is SES's newly-created media services company that transforms content viewing for a global audience by providing a full range of content management, delivery and value-added digital media services.
During the interview Arnold C Kulbatzki, Chief Executive Officer of Bobbles stated, "We are delighted to be working with a global player like SES. Not only will SES's prime orbital position of 19.2 degrees East and MX1's reliable and high-quality services enable bobbles to reach the 14 million non-European expats and communities living in Europe, but also a continued relationship will allow us to expand our reach globally."
Adding his thoughts Ferdinand Kayser, Chief Commercial Officer at SES commented, "Through our global fleet of over 50 satellites, we can support bobbles.tv's plan to connect expats around the world via entertainment. Today, many expats have to resort to watching poor quality video content on the Internet. With SES's extensive technical reach, this new TV service will allow more expats to watch better quality picture content anytime they want."