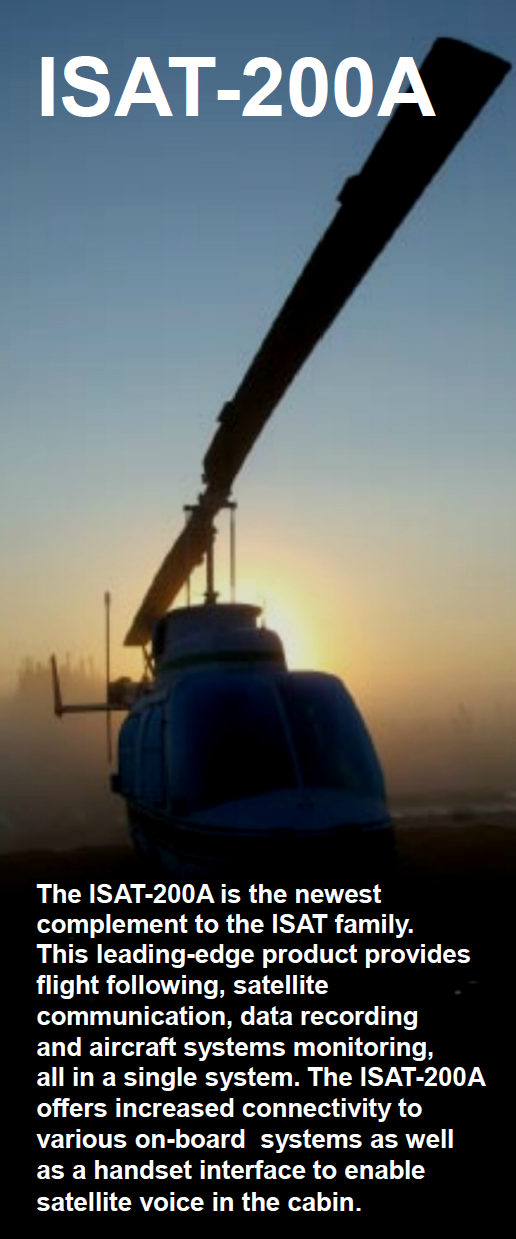 [SatNews] Transporting patients in helicopters has its challenges, and getting them to medical help safely depends on connectivity...
SkyTrac Systems reports that Air Medical Resource Group (AMRG) has purchased multiple SkyTrac ISAT-200A flight-following systems to support their fleet's critical air medical transportation operations.
The ISAT-200A system provides increased connectivity to various aircraft systems such as ARINC-429 and 717, it has an embedded accelerometer for attitude profiling, and an internal hardened memory module which records flight data and cockpit voice. The system enables dynamic exceedance detection and directly supports FOQA/FDM programs and Safety Management Systems.


Visit SkyTrac at HAI Heli Expo in Anaheim, California from February 24-27 at booth 5822.

SkyTrac Systems provides specialized flight support services and technology solutions to enhance flight safety and efficiency at every level in an aviation operation—in the air, on the ground and in the office.
With over 185,000 daily satellite transmissions to customers in 50 countries on 7 continents, SkyTrac's solutions offer connectivity and access to vital aviation information. SkyTrac offers a comprehensive range of certified solutions that combine leading-edge software, firmware and hardware technologies. SkyTrac also has avionics design/build services, install services, and 24-hour customer support. For more information go to.

AMRG's mission is to provide safe, compassionate and efficient air medical transportation, and provides air medical services, management, and experience in the Western United States and Puerto Rico caring for and transporting patients in rural area hospitals to large tertiary care facilities in metropolitan areas.